Despite all the advice out there on generating leads for real estate, there isn't much that helps you understand how to convert your online real estate forms into lead generators. Sure, there is plenty out there in the way of free real estate forms, printable real estate forms, and downloadable forms, but not much that understands the huge potential of web forms as lead generation tools - forms that are... well, downright sexy.. Here are top tips for making the most of your real estate client forms, and a list of tools to help make it all happen
Turn your form into a landing page
A web form is not just an end point; it can be the first place your clients experience how fantastic (or not) it is to interact with you. If you've just been creating static client information forms or client intake forms, it's time to reconsider and start turning those generic real estate forms into something more dynamic. The forms you use for existing clients can become incredibly powerful lead generators for new prospects.
In fact, Buyer and seller lead forms should be landing pages. Brad Shorr, Director of Content Strategy at Straight North, revealed these staggering stats from their research (check out the full research in Resources at the end of this post).
First impressions are important, and nowhere are they more important than in lead generation. At Chicago SEO agency Straight North, we learned that more than 80 percent of website conversions happen on the first visit. A successful lead generation website is one that drives visitors to action right away…
Achieving an amazing landing page/form combo doesn't have to be loads of work. Real estate landing pages, web forms, and sites change so quickly and often, that unless you're a massive commercial enterprise it's just not feasible to pay through the nose for a dev and designer for constant updates. You really only need a dev/designer if you want a complete website set-up or overhaul.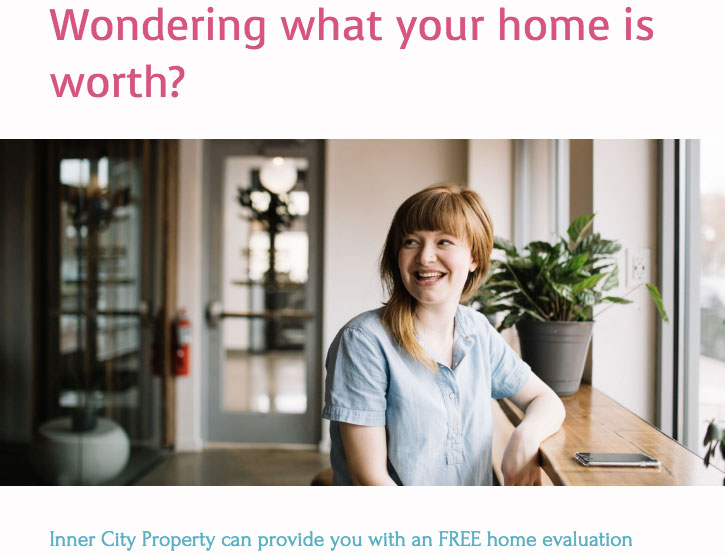 Even then, you can do either of these well yourself and at minimal cost (between $50 - $100 by setting up your own Wordpress site). Here are a few examples of dynamic landing page forms, and a list of great tools can be found at the end of the post.
Real Estate Seller Leads Landing Page
Tailor your landing pages to the audience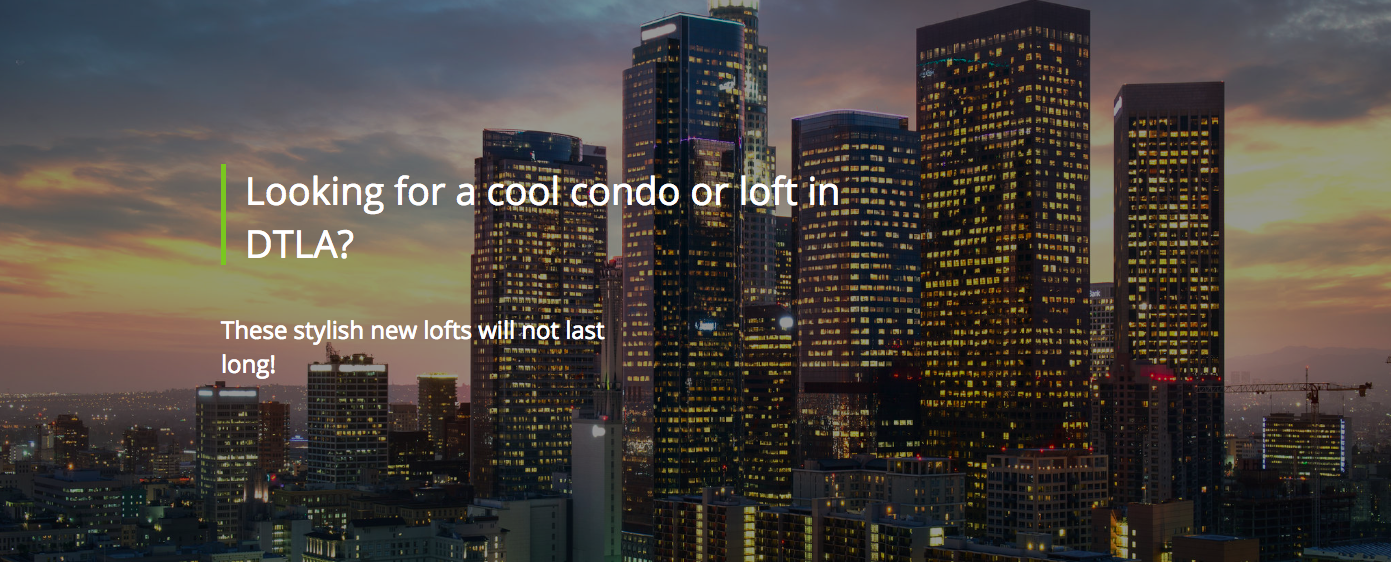 Tailor your client information intake forms to suit the landing page it's on. Seems like a no-brainer, but it's got to be said. Create lead-specific pages that are tailored to your prospects' needs: landing pages for off-the-plan living, investors, inner-city property sales, etc. This can be particularly effective for real estate agencies that create location specific landing pages to market their listings.
Prospects who land on dedicated pages are usually there because they are interested in the particular offering of that page, so don't be afraid to ask for information specific to this in the form component - if it's an inner-city sales lead form, ask them for information about their inn-city home. Real Estate Lander sums this up well
...say that you ran a Facebook ad for a free home valuation report. If the visitor clicks on your ad and they are taken to your home page, they will be rudely interrupted in their inquiry process. They will not know where to go to next. If, however, the click leads the visitor to a landing page which clearly tells them that they need to enter their home address, email address, and click the submit button in order to receive their free report, they are more likely to proceed with the process.
Yes, that's right - the last tip said 'pages'
If you've only got one or two landing pages that are vague about your offering, then you're not reassuring your prospects that you know exactly what they need. You're just not going to get the specific answers and info you need to determine the best acquisition channels and generate leads. Multiple, dedicated landing pages and forms mean more funnels on offer with better value propositions; and that results in more leads with a higher chance of conversion!

Multiple pages also give you an opportunity to see which funnels are converting and which aren't. Don't be afraid to A/B test and monitor how prospects are moving through each funnel. Create two versions for the same demographic, send half of your traffic to each, and after a time (somewhere between two to five weeks, depending on your traffic), ditch the landing page that performs the worst and tweak the better converting page: adjust your value proposition and ask even better questions on your web forms. Some key things to remember when creating and later comparing:
Keep your primary landing page simple
While you should be specific for leads who know what they're after, ensure you also have a general landing page that can capture the core information of those who haven't quite figured it out yet. Keep your general real estate lead capture forms simple - no more than three questions is ideal. Here are some great examples of clear, beautiful, simple real estate landing pages:
INSTAPAGE have some great real estate specific pages that do the thinking for you (give a man a fish)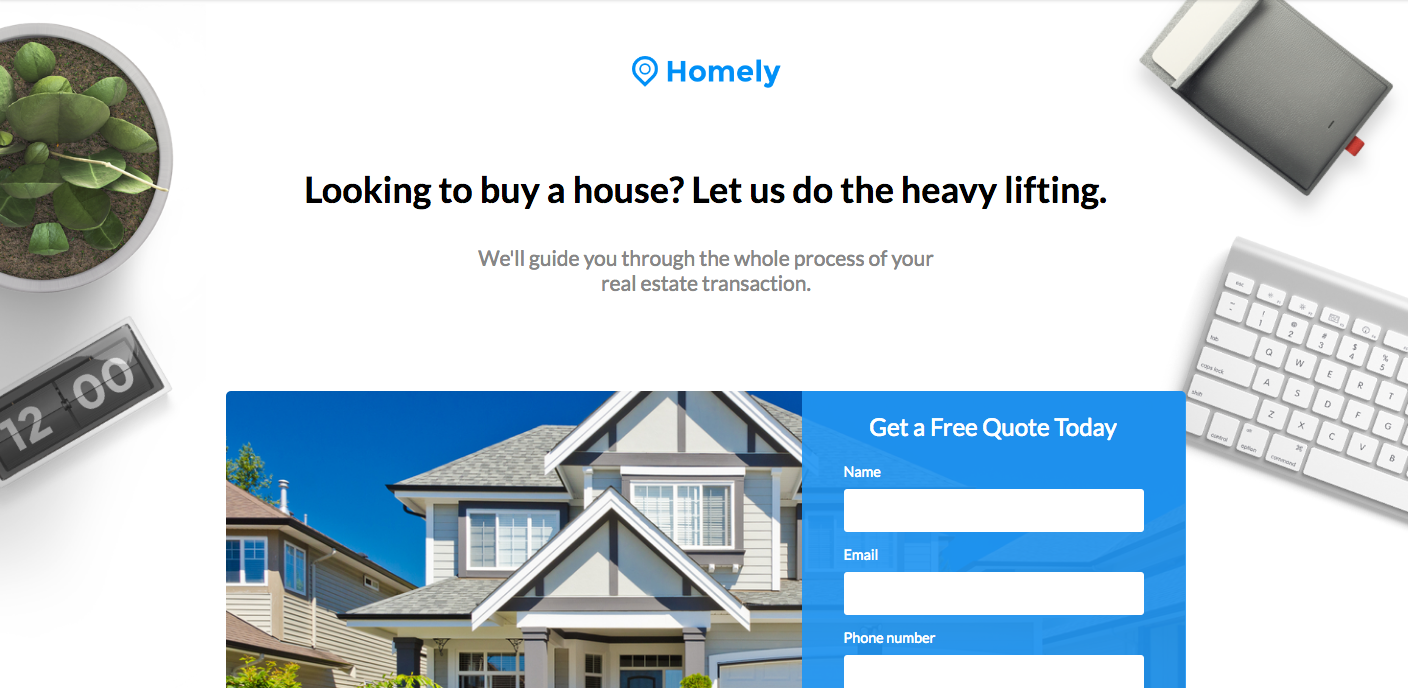 UNBOUNCE have loads of great templates that have the potential to be great real estate pages. This is great if you want something more tailored to your marketing strategy (teach a man to fish)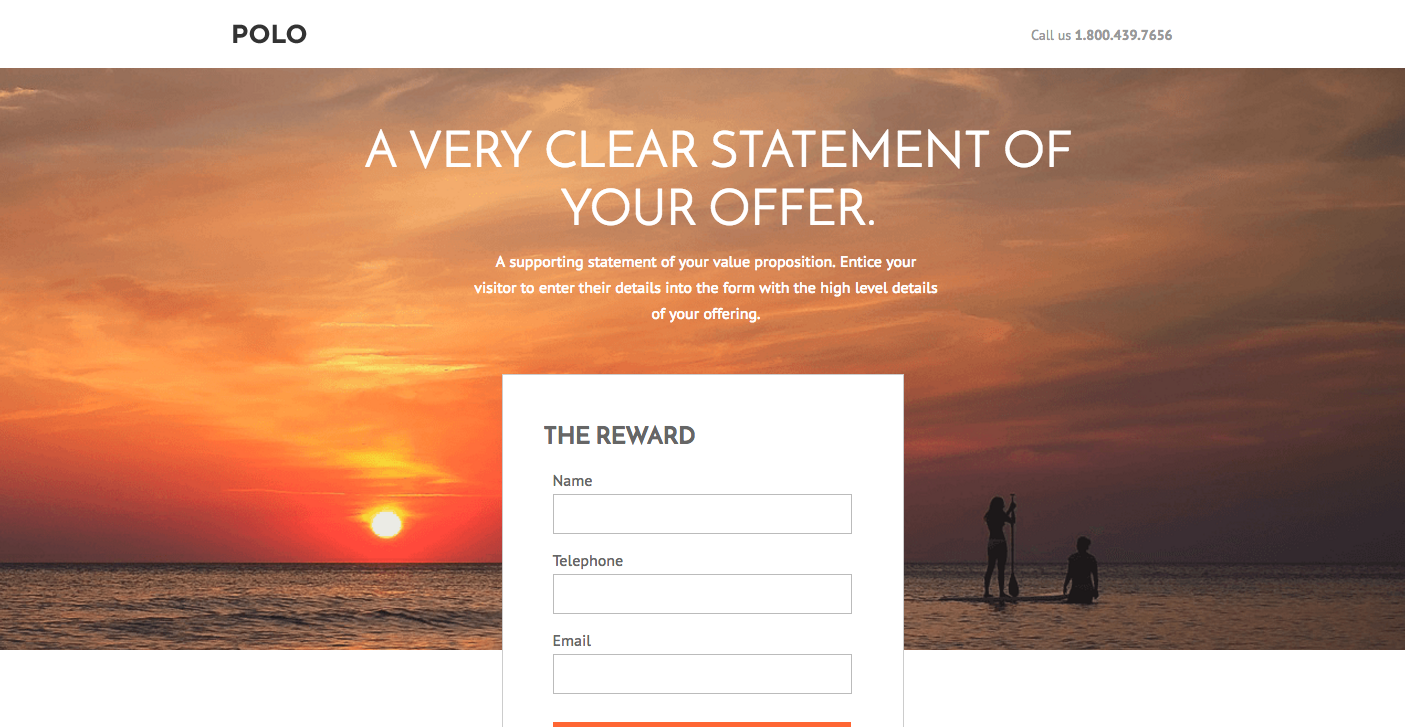 PAPERFORM platform is ideal for real estate landing page/form hybrids, especially if you are looking to value add to an existing site, with templates or a blank slate (give a man a fish and teach him to fish = lots of fish)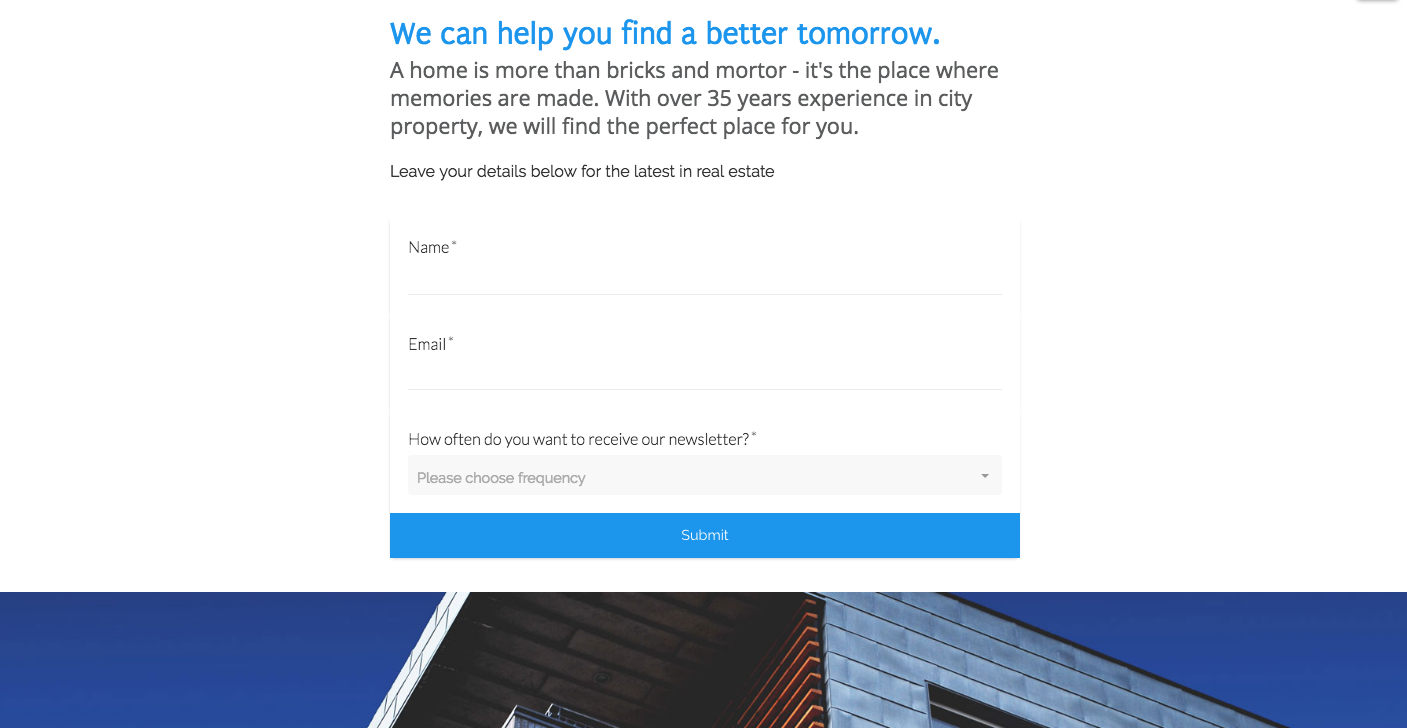 Personalize your form page to gain trust and call visitors to action
Every form can inspire if you include great branding and clear value propositions. Just picture it - instead of feeling underwhelmed at the sight of rows of mundane questions, your client is blown away by your pitch and drooling over stunning images of your latest real estate listings. More importantly, your clients are chomping at the bit to add their details to your signup form once once they've seen your stunning agent profile.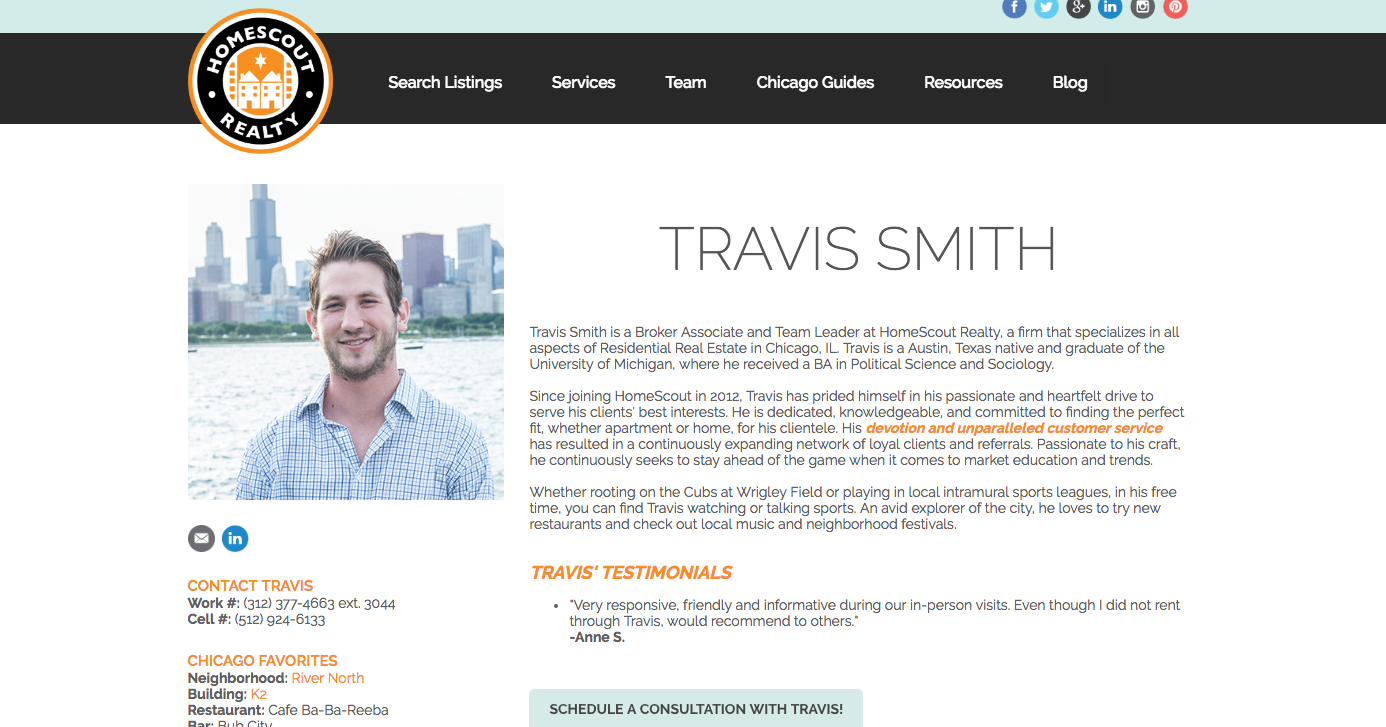 While you'll hear a lot of folks saying that placing the call to action (CTA) above the fold is the best way to increase lead generation, you may get better conversion rates if you show value and gain trust before asking them to take action. Real Estate forms should start with a bio that inspires your prospects to trust you with their happiness and security. Create more opportunities for prospects to understand you are THE expert that will solve their problems before asking them to actively put their faith in you.
Agents know that in order to sell a property you have to first sell yourself, so a landing page form should not just sell property, it should also sell you. You are your brand, and above all should be personal and accessible: write about yourself, provide testimonials, and don't overuse real estate jargon. Check out these examples:
Professional examples
CHRISTINE KO, Senior Sales Associate, CLIMB Real Estate
TRAVIS SMITH, Broker Associate and Team Leader, HomeScout Realty
NATHAN SAADAT, Agent, The Agency
Templates
Real Estate Agents Lead Profile Form (Paperform)
Real Estate Dealer Landing Page (Landing Page Design)
Responsive Landing Page Template - Agents (Unbounce)
It's rare for any landing page to receive significant traffic without marketing, especially Real Estate pages which are not typically SEO friendly. Real estate landing pages rely heavily on paid ads and social media campaigns to grow email lists and subsequently convert prospects. Getting your landing pages out there is the only way to capture client information (they won't just fall into your lap).
Drive traffic to your pages with targeted social marketing campaigns. There are tons of strategies that may work for you. It's all about trying, tracking, tweaking, and then starting all over again until you find the right formula for you. Marketing is a resource consuming affair - you have to start engaging on social media early and consistently. Here are a few resources that will help you get your real estate online marketing strategy on its way: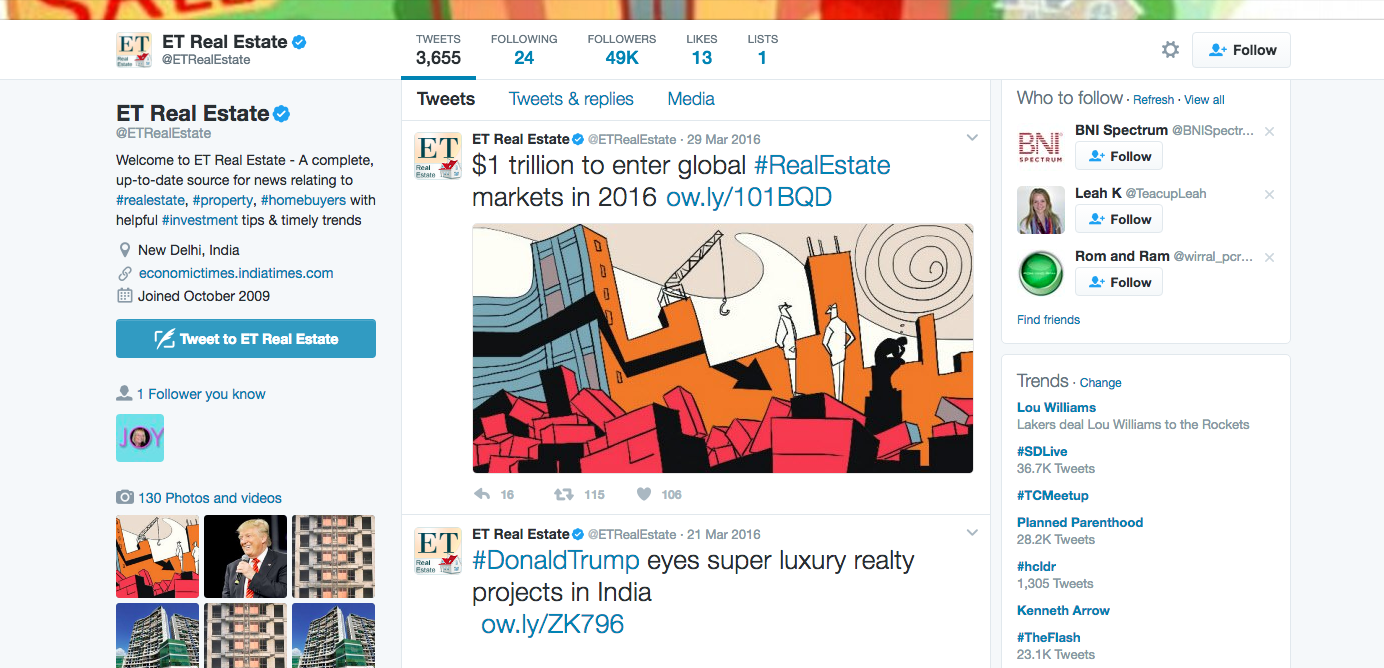 With all of your marketing, always, always ensure you are tracking with Google Analytics, Pixel, Bitly, etc. You can find a list of the top 10 free content analytics tools here, and I've also added a few real estate analytics guides at the end of this post. Analytics tools are vital for analysing and adjusting your marketing strategies.
Once you have the traffic, your main goal should be capturing lead details and getting ready to keep them engaged with a newsletter. A newsletter is the best way to stay on the minds of those interested in you but not quite ready to commit. Capturing basic details with forms across all of your landing pages will ensure people can opt-in to your email list even if they aren't ready to buy or sell.
Great real estate web resources
This post is a compilation of the best information, advice, and tools from experienced real estate professionals. While I'm not in the business of real estate, I am in the business of online forms and bloody fantastic research. Check out this reference list to gain more comprehensive grasp of real estate landing pages and leads:
10 Ways To Make Your Lead Generation Website Convert On The First Visit, Brad Shorr (Straight North)
Brad Shorr is Director of Content Strategy at Straight North, an Internet marketing agency that provides SEO and PPC services. He has more than 25 years of marketing and sales experience, and has been featured on leading sites such as Forbes and Entrepreneur. This is a great read with insightful data.
7 Ways to Maximize Lead Generation with Your Real Estate Website, Matthew Bushery (Placester)
8 real estate landing page myths — busted, Ben Janke (Inman)
How To Build a Location-Specific Website To Market a Property, Robert Lee (Realty Point)
5 Real Estate Landing Page Templates for Your Appraisal, John Hiemstra (Unbounce)
A/B Test: Which Copy Strategy Increased This Real Estate Agent's Opt-Ins by 152%?, John Nye (Leadpages)
8 A/B Split Tests That Made Shocking Discoveries, Hassan Ud-deen (Kissmetrics)
Split Testing between Standard Search Box and Drop-Down Search Increased Leads by 57.25%, Turana (VWO)
12 Tests to Improve Your Real Estate Website, Matthew Bushery (Placester)
7 Dead-Simple A/B Tests You Should Run on Your Homepage, Lauren Hintz (Hubspot)
The 5 steps to a killer real estate agent profile, Siteloft
The do's and don'ts of writing real estate agent profiles, Melanie Hoole (Hoole)
Real Estate Bio: 9 Tips & 15 Examples from the Pros, Emile L'Eplattenier (Fit Small Business)
The Top 10 Free Content Analytics Tools, Amanda Walgrove (Contently)
13 Google Analytics Reports for Your Real Estate Website, Matthew Bushery (Placester)
How Real Estate Agencies should use Web Analytics, Peter O'Neill (L3 Analytics)
5 Elements of Good Real Estate Email Newsletters, Travis Balinas (Outbound Engine)
PPC - Target Marketing with Facebook Ads for Real Estate, James Kimmons (The Balance)
35 Easy & Effective Real Estate Marketing Ideas, Megan Marrs (WordStream)
54 Real Estate Marketing Ideas The Pros Use, Emile L'Eplattenier (Fit Small Business)
And some final resources from the Paperform Team
We've put together a number of templates (inspired by our AMAZING real-estate Paperform customers who gave great insight into the industry) to help you create stunning real estate landing pages and forms. See our our short video for real estate pages to get inspired.