What is the best Formstack Alternative?
Researching and comparing software tools is the best way to figure out what solution to pick for your specific needs. This goes for everything from team communication to building online forms.
Take Formstack for example. It might be an excellent choice for enterprise companies with a lot of cash, but due to its high pricing it's probably not going to be suitable for small companies and individuals.
Paperform offers the same features (and more!) at a lower price, while maintaining the highest standards of performance, live 24/7 customer support and the easiest form building experience of any platform.
But don't just take our word for it. Let's take a closer look at the features, user experience and customer reviews for Formstack and Paperform to help you find the best form builder for your needs.
Formstack vs Paperform: Quick Feature Comparison
Formstack
Paperform
Best For
Creating generic forms and surveys at enterprise scale.
Creating branded online forms, surveys, and landing pages.
GetApp Rating
4.2
4.9
GetApp Customer Support Rating
3.9
4.8
Guided Mode Experience
No
Yes
Formstack vs Paperform: A Detailed Breakdown
Ease of use
Formstack
Formstack's editor is based around the drag-and-drop principle. It's quite easy to find the right fields in the "Build" menu and insert them into your forms, but the configuration can be confusing.
For example, when trying to customize a multiple-choice question, you'd have to click on the question first, wait a few seconds for a new menu to pop up in the left sidebar, and finally scroll down to view or modify the answer options. You then have to scroll down once again to edit the text.
Overall, Formstack's interface is quite cluttered with features, boxes, panels and menus. Someone with little to no experience using Formstack (or similar drag and drop tools) will most likely get overwhelmed right off the bat.
Paperform
No matter if you're a beginner or a form-building-ninja, thanks to Paperform's clean and modern interface, building forms is simple and fun. The whole process feels just like writing an online document. You can add questions, text, images, and embed videos anywhere on the page. Paperform also integrates with Unsplash and GIPHY, allowing you to insert visuals without ever leaving the app.
And if you want to modify question details, simply click on the "Configure" button next to an individual question and follow the contextual menus.
Paperform's editor also supports slash commands. Simply type "/" anywhere on the page to open the commands menu. Then, you can either scroll down and select the right field, or start typing the field's name to filter through the list. For example, if you want to add an "Address" field, it's enough to type the first three letters to narrow down the list to just one option.
There are also special "Quick Questions" shortcuts in the slash commands menu. These are the questions, like "Name" or "Terms & Conditions", that already have pre-configured details.
Customization
Formstack
To start customising Formstack forms, you first have to switch from the "Build" tab to "Style" in the upper-left sidebar. Due to the number of different tabs and pages in the editor it can be difficult to find where to go.
Within the "Style" menu you can preview existing themes or create your own. The process of creating and saving your themes is fairly convenient, especially when you have a few forms requiring the same design. Unfortunately, Formstack's pricing only allows for a limited number of saved themes (the lowest plan supports up to five).
While editing a new theme, changes are reflected immediately on the actual form. Just don't forget to click the "Save Changes" button—if you don't save manually then you risk losing all your work.
Paperform
You can customize your Paperform forms and landing pages down to the very last detail. In the 'Themes' menu you can change colours, fonts and your background, as well as the entire look of the UI elements like the navigation menu and buttons. You can also import themes from your other existing forms without any limitations.
There's also an option of manually translating your forms into multiple languages. And if you're tech savvy, you can even sprinkle in some custom HTML & CSS to take your forms to the next level.
You can quickly preview changes in real-time, without ever leaving the "Theme" menu. Once you're satisfied with the new look of your form, just close it and continue building—any of the changes you make get saved automatically.
Paperform supports two different form behaviours: standard and guided. Standard is the static view of forms that you see in all other form builders, including Formstack. Here your questions and content appear all at once (unless you split your forms into multiple pages). Standard forms work best whenever the broader context is important, such as payment and product pages.
When guided mode is on, respondents are presented with one question at a time. This means when they answer the first field, the form automatically advances to the second one (and so on). The guided mode better engages your respondents and works best for immersive surveys and quizzes.
Learning support
Formstack
Formstack has a help center where anyone can check out FAQs. To submit a query you need to log in with your account and fill out a form. There's also a community forum where users can seek help from peers or submit feature requests.
Live Chat: No
Youtube Tutorials: Yes
Paperform
Paperform has a help center and a set of educational videos on YouTube. We also provide live chat support, available to both existing users and anonymous visitors.
Live Chat: Yes
Youtube Tutorials: Yes
Template Library
Formstack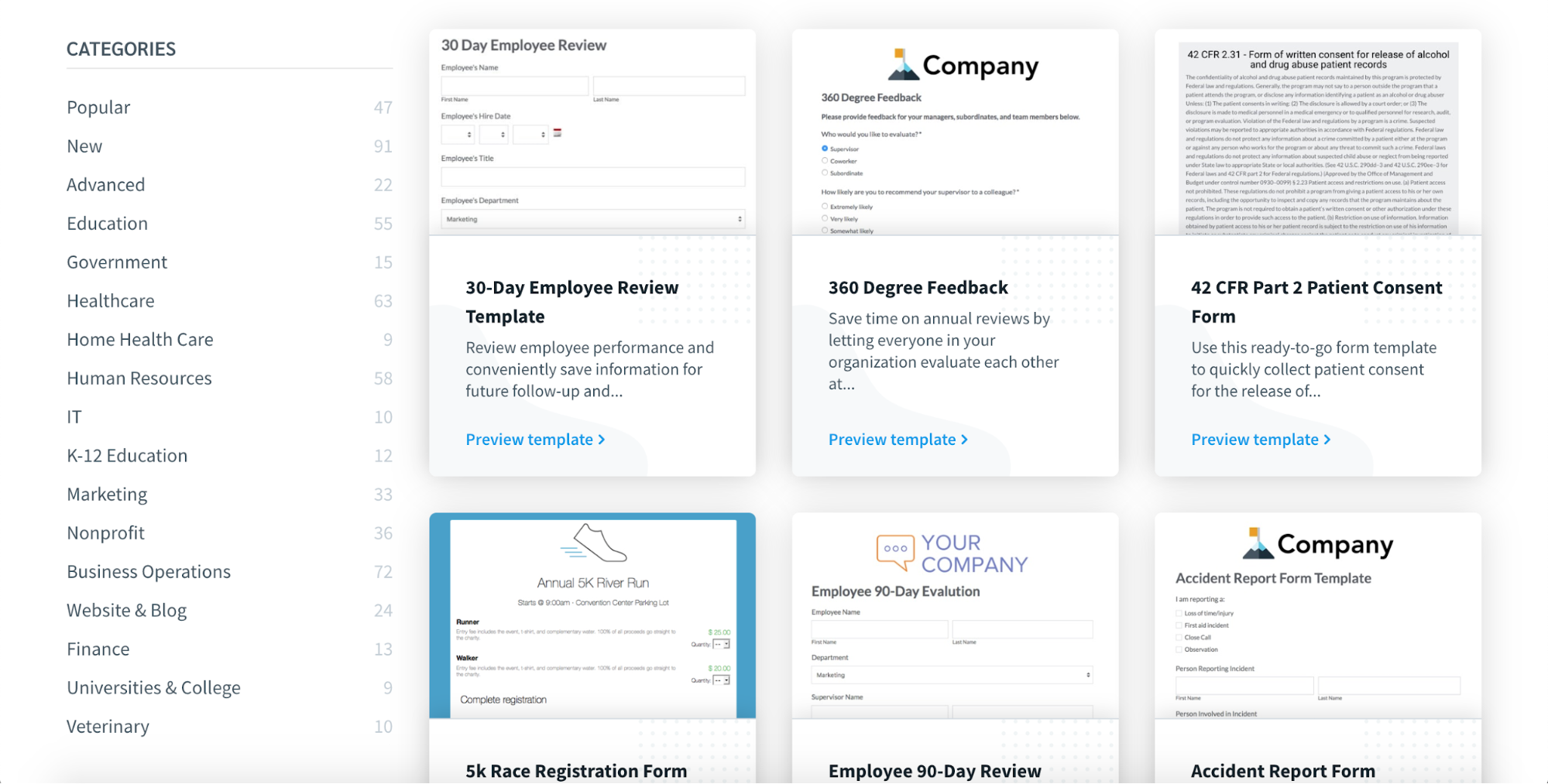 Formstack has a gallery of 300+ form templates. The quality of templates varies: some are very well designed, while others have the same repetitive visuals and general structure.
Paperform
Paperform's library has 500+ templates to choose from. Each template is unique, with its own structure, fields, colours and visuals. Users can import and start customising the templates in just one click.
Payment Features
Formstack
Paperform
Payment Integrations
Square, Authorize.Net, PayPal, Stripe, Chargify, FirstData, ProPay, WePay
Direct integrations with Stripe, PayPal, Square, Braintree.
Payment & eCommerce features
Automated responses: Yes
Receipt generation: Yes
Tax addition: No
Subscriptions:Yes
Invoices: Yes
Quotes: Yes
Coupons: Yes
Automated responses: Yes
Receipt generation: Yes
Tax addition: No
Subscriptions:Yes
Invoices: Yes
Quotes: Yes
Coupons: Yes
Advanced Form Features
Pagination
Formstack
If you want to split your Formstack forms into multiple pages, you have to use a "Section" block that can be dragged and dropped within forms. This process is a bit difficult, since you can't drop "Sections" between existing fields, forcing you to rearrange all the fields instead.
Paperform
Paperform's "Page Break" feature is really easy to use. Just select wherever you want to create a new page and click on the "Add Break" icon that pops up. You can also add page and section breaks using slash commands.
Be aware that when the guided mode is enabled, the pagination in Paperform works differently. All form elements (including text and images) show up on separate pages, even when placed before or after a break.
Question Logic
Formstack
To add conditional logic to your forms you need to select a field and open the "Logic" menu in the left sidebar. You can then visually define your conditional statements (e.g. show or hide a particular question) based on the fields' values and respondents' answers.
Paperform
With Paperform you can display or hide questions and whole pages based on preset variables and conditions (things like "is answered", "isn't answered", "contains", "doesn't contain", among others). Plus, instead of redirecting users to a separate menu, conditions can be set using the "Configure" menu—just a click away at all times.
Success pages & redirects
Formstack
Formstack only supports simple thank you pages. To replace the default submission message, you need to navigate to the "Settings" menu first, and select "Welcome & Submission Message" in the left sidebar. Now you can replace the default message with your own.
While you can insert text and submission details, the customisation options are limited. Prefer to redirect to another Formstack page or an external website? This can be configured from the same menu.
Paperform
You can customise Paperform's success pages to your heart's content. Just head to the "Success Pages & Redirects" menu. Here you can tweak every detail—edit text, insert images, embed videos and .GIFS and add hyperlinks. The only limit is your imagination.
Paperform also allows users to create multiple success pages and redirect responders based on their answers (with the magic of conditional logic). With this nifty feature you can create truly personalised journeys for your respondents from start to finish.
Analytics
Formstack
Paperform
Form Analysis Features
Form views: Yes
Form submissions: Yes
Partial submissions: Yes
Completion Rate: Yes
Sales Figures: Yes
Export & Print Responses: Yes
Save & Resume Later: Yes
Form views:Yes
Form submissions: Yes
Partial submissions: Yes
Completion Rate: Yes
Sales Figures: Yes
Export & Print Responses: Yes
Save & Resume Later: Yes
Analytics Integrations
Google Analytics
Built-in Analytics, Google Analytics, Facebook Pixel or custom analytics scripts.
Made up your mind?
Try Paperform Free Now