What is the best Google Forms Alternative?
Google Forms is a widely-used, free online form builder. And yet, at some point, most serious professionals and businesses find themselves searching for a more powerful solution. Why?
The primary reason is that Google Forms wasn't built with professional users and business needs in mind. It's designed to be a simple and basic solution for data collection, but no more than that.
Paperform is the most modern and powerful alternative to Google Forms, which supports all the crucial features that Google Forms lacks: like accepting payments, custom HTML & CSS, partial submissions and more.
Google Forms vs Paperform (Google Forms Alternative): Quick Feature Comparison
Google Forms
Paperform
Best For
Creating surveys or simple online forms.
Creating advanced forms, product and payment pages that represent your brand.
GetApp Rating
4.4
4.9
GetApp Customer Support Rating
4.3
4.9
Export Results To CSV
Yes
Yes
Google Forms vs Paperform: A Detailed Breakdown
Ease of use
Google Forms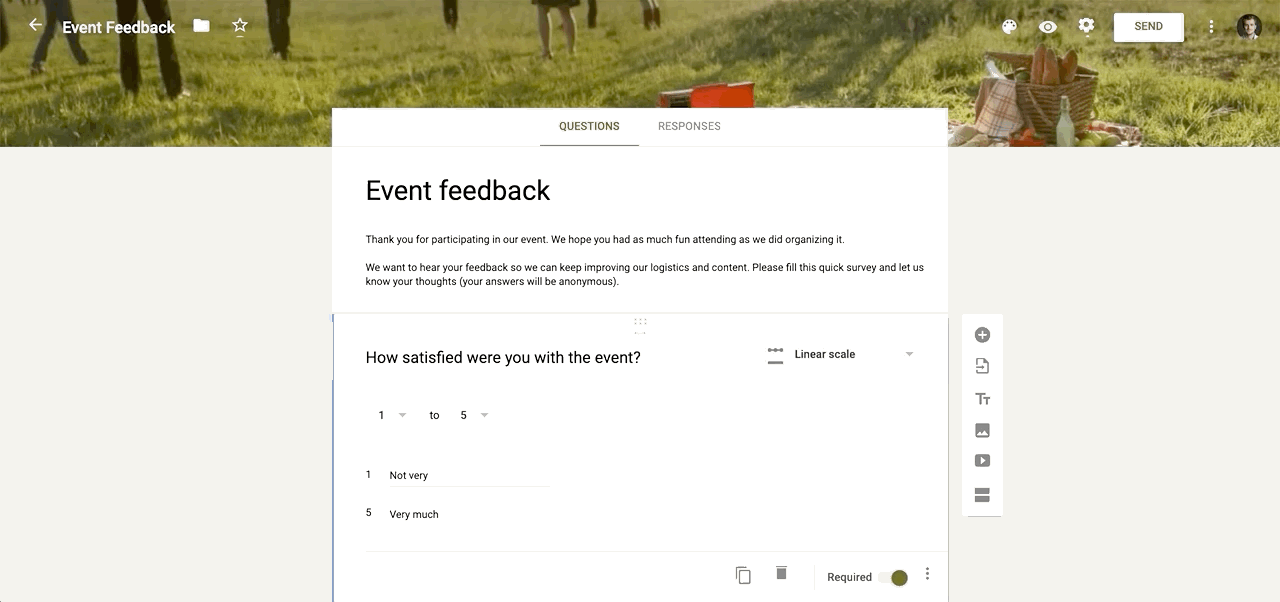 Google Forms has an intuitive and minimalistic interface, which allows users to add questions, edit settings and theme forms in just a few clicks.
The users can add or import questions, add text, embed images and video using the side-menu on the right. To customize colours or fonts, tweak settings or preview forms — navigate to the menu in the header.
Paperform
Paperform is super easy to use, even for those not familiar with building forms or landing pages. This is mainly because creating a form feels just like creating a Word document. You can type text anywhere, easily add images, embed video or add questions.
This also means that you don't have to use the side-menus. Just click on every field or question to configure their details individually.
While Paperform supports many more question-fields and features than Google Forms, it's interface is comparably simple and accessible to anyone.
Customization
Google Forms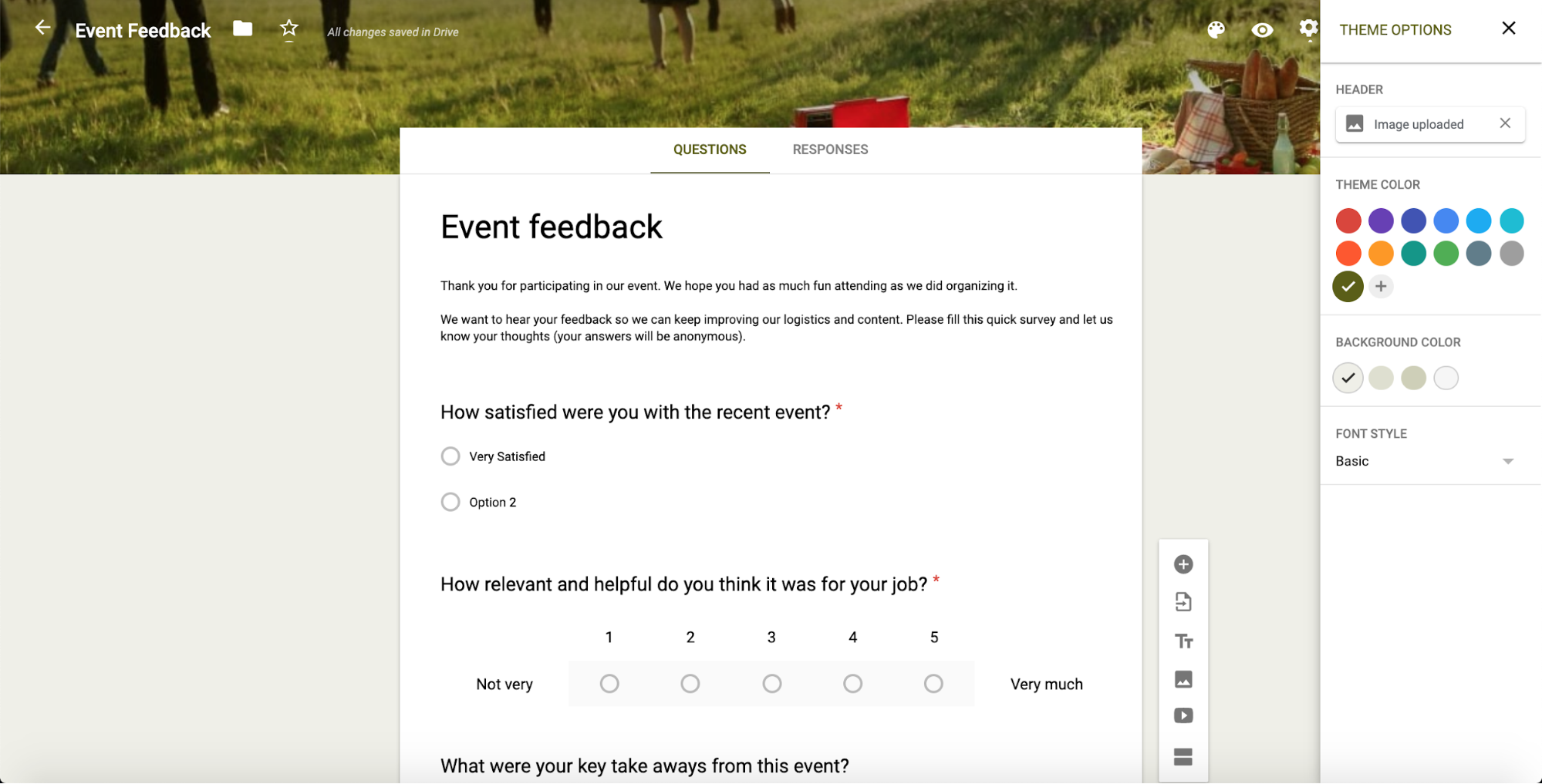 To customize your Google Forms, click on the "Customize Theme" menu in the header.
The theming options are quite limited. You can upload a custom theme header to change the image at the top of your form. The "Theme Color" menu changes the background color of the rest of the form
There's a limited choice of fonts, allowing you to switch between just four quite basic options: basic, decorative, formal and playful.
Paperform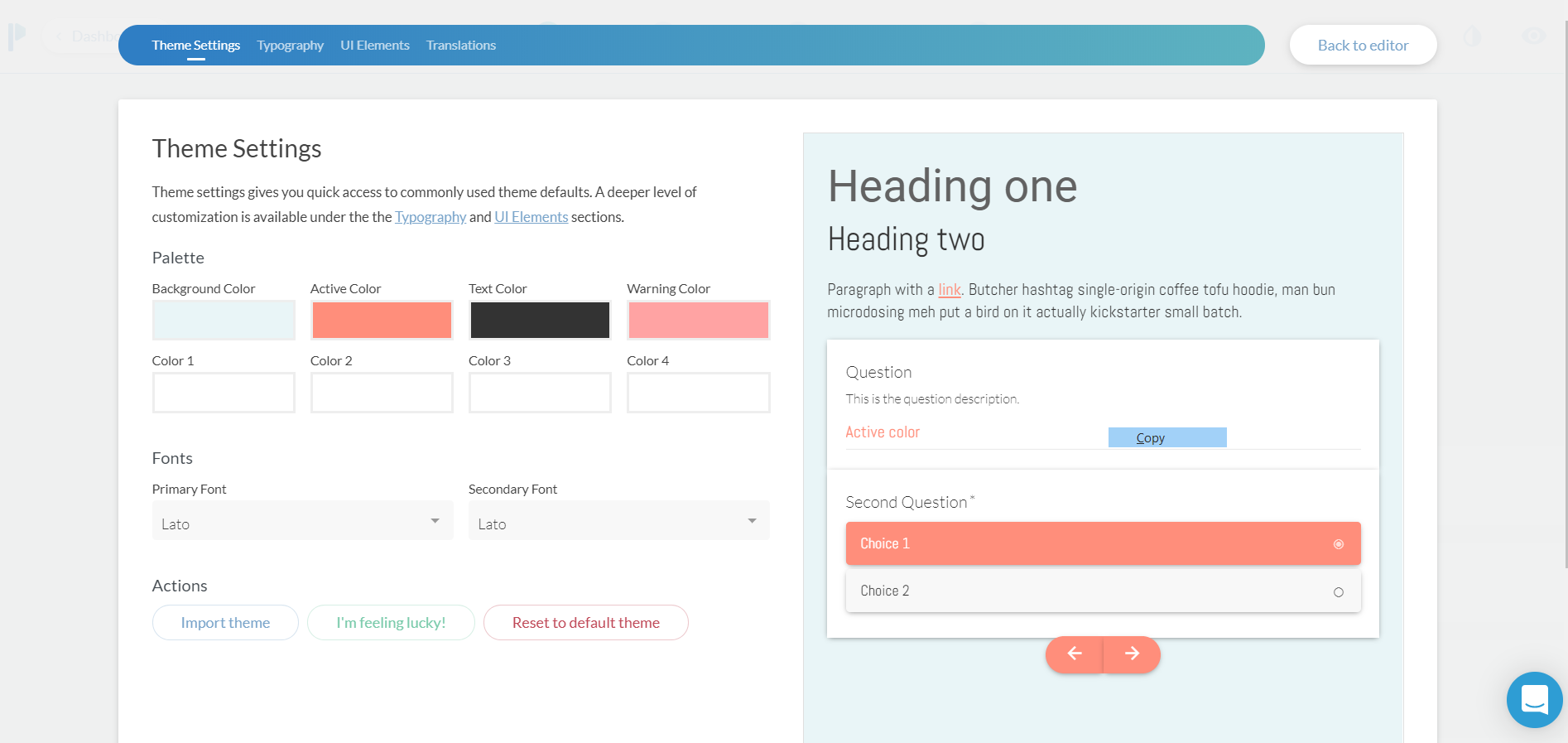 Paperform allows you to customize your forms down to the tiny details. The 'Themes' menu allows users to tweak colours, fonts, add images, logos, buttons, embed video, change UI elements and more.
The tech-savvy Paperform users can also add custom HTML & CSS to customize their forms.
A unique feature of the Paperform's theme editor is the ability to preview how your colours, fonts or UI elements will look on your actual form. This saves you the time of having to go back and check how things would look after each modification.
Paperform supports over 300 designer-templates, allowing you to import full themes and form-structures that were created in mind with very specific use-cases.
Learning support
Google Forms
There are only a few basic official tutorials created by Google. The rest of the tutorials were created by fellow community members and users.
Live Chat: No
Youtube Tutorials: Yes
Paperform
Paperform offers both YouTube video tutorials and a help-center with detailed guides. Paperform also provides live chat support, which means that every individual query receives a response within a few hours.
Live Chat: Yes
Youtube Tutorials: Yes
Template Library
Google Forms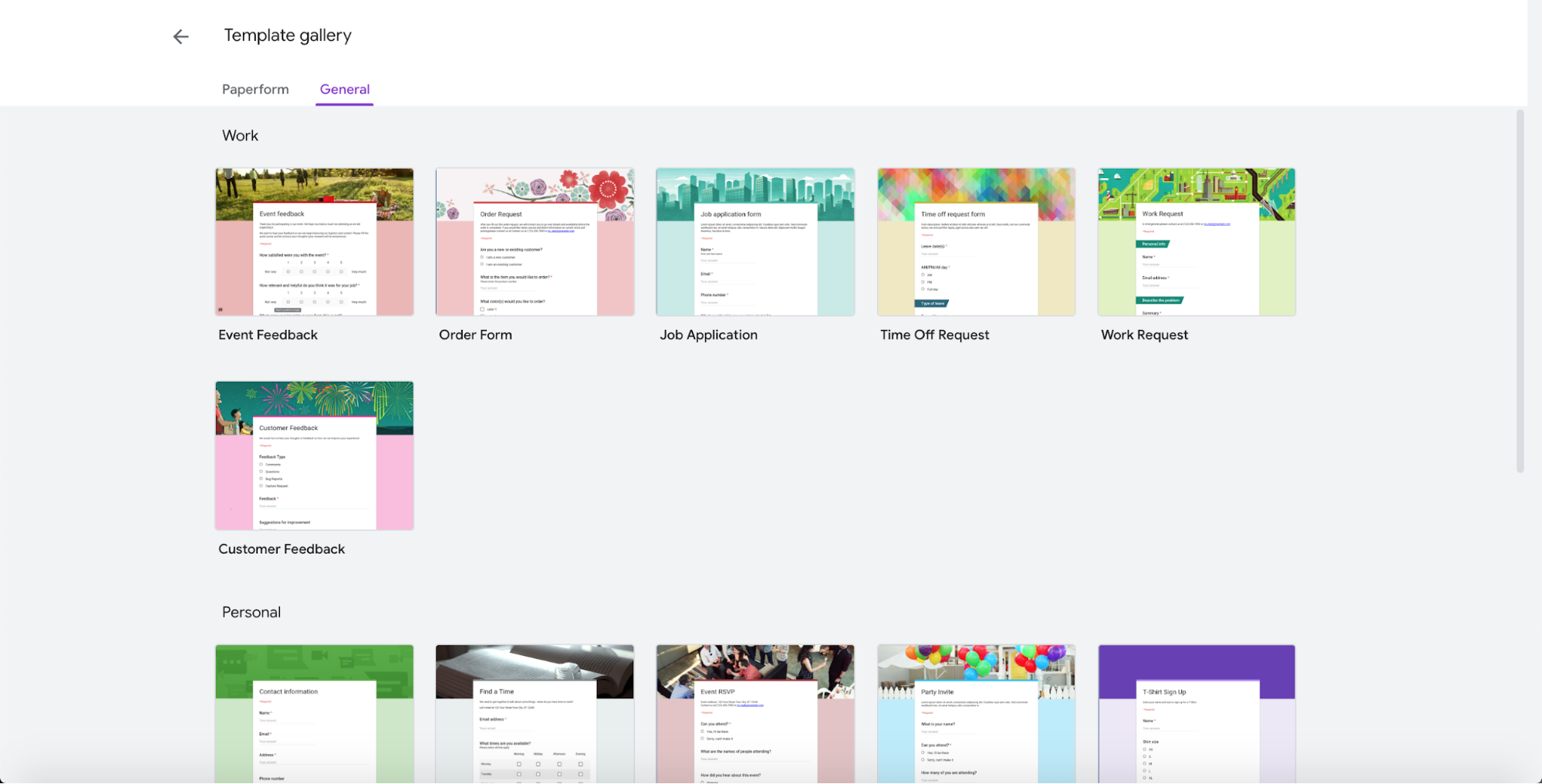 Google Forms offers a limited library of basic form templates. All the templates are split into three categories: Work, Personal and Education.
Paperform
Paperform offers a much larger selection of form templates, with 120+ customizable pages to choose from. Each template has a unique design and color-palette. The users can import the templates and start customizing them in just one click.
Payment Features
Google Forms
Paperform
Payment Integrations
Doesn't support payments
26 payment integrations, including: Stripe, PayPal, Square, Chargebee, Braintree, Practice Ignition, Zoho Subscriptions, Chargify, Revolut.
Payment & eCommerce features
Automated responses: No
Receipt generation: No
Tax addition: No Subscriptions:No
Invoices: No
Quotes: No
Coupons: No
Automated responses: Yes
Receipt generation: Yes
Tax addition: No
Subcriptions:Yes
Invoices: Yes
Quotes: Yes
Coupons: Yes
Advanced Form Features
Pagination
Google Forms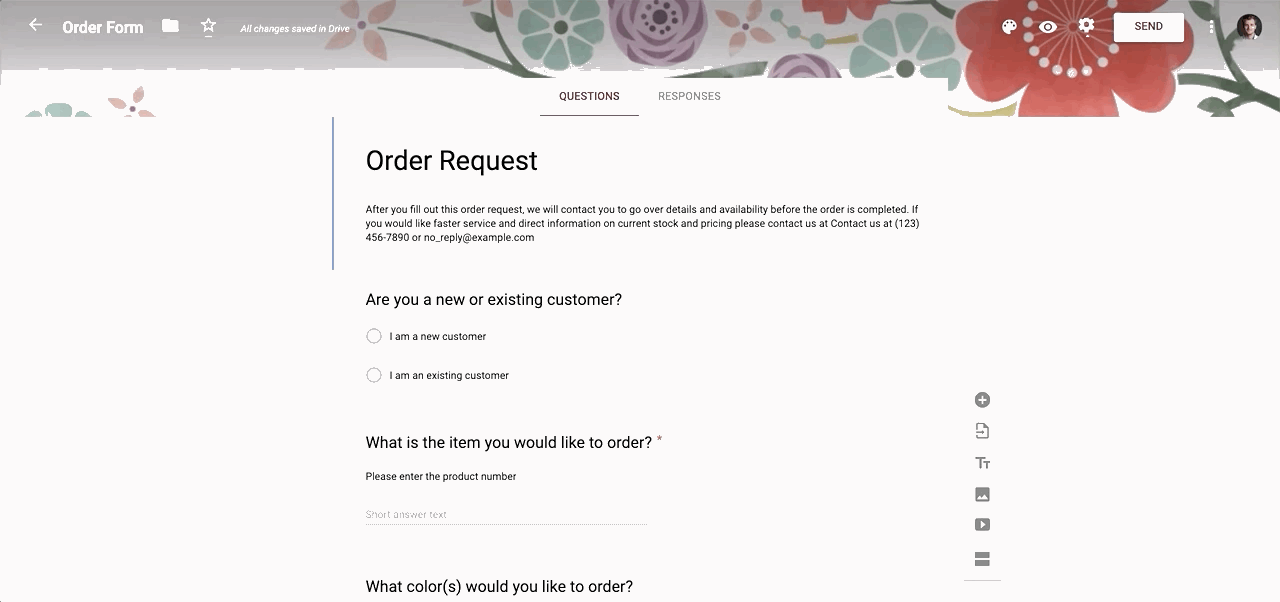 You split your Google Forms into pages by creating sections. You might optionally show the progress bar (check "Settings") to inform the responders about what's ahead.
Paperform
With Paperform it's very easy to create multi-page forms. You can simply select wherever you want to create a new page and click on the 'Add break' icon that shows up.
Question Logic
Google Forms
Google Forms supports only the most basic question-logic, allowing you to navigate the responders to different sections based on their multiple-choice answers.
Paperform
Paperform offers full-fledged support of question-logic. You can show or hide questions or pages based on various variables and conditions. It's also very simple and intuitive to use. Instead of redirecting the user to a separate menu, Paperform enables users to create conditions for individual questions, making the whole process simple and visual.
Success pages & redirects
Google Forms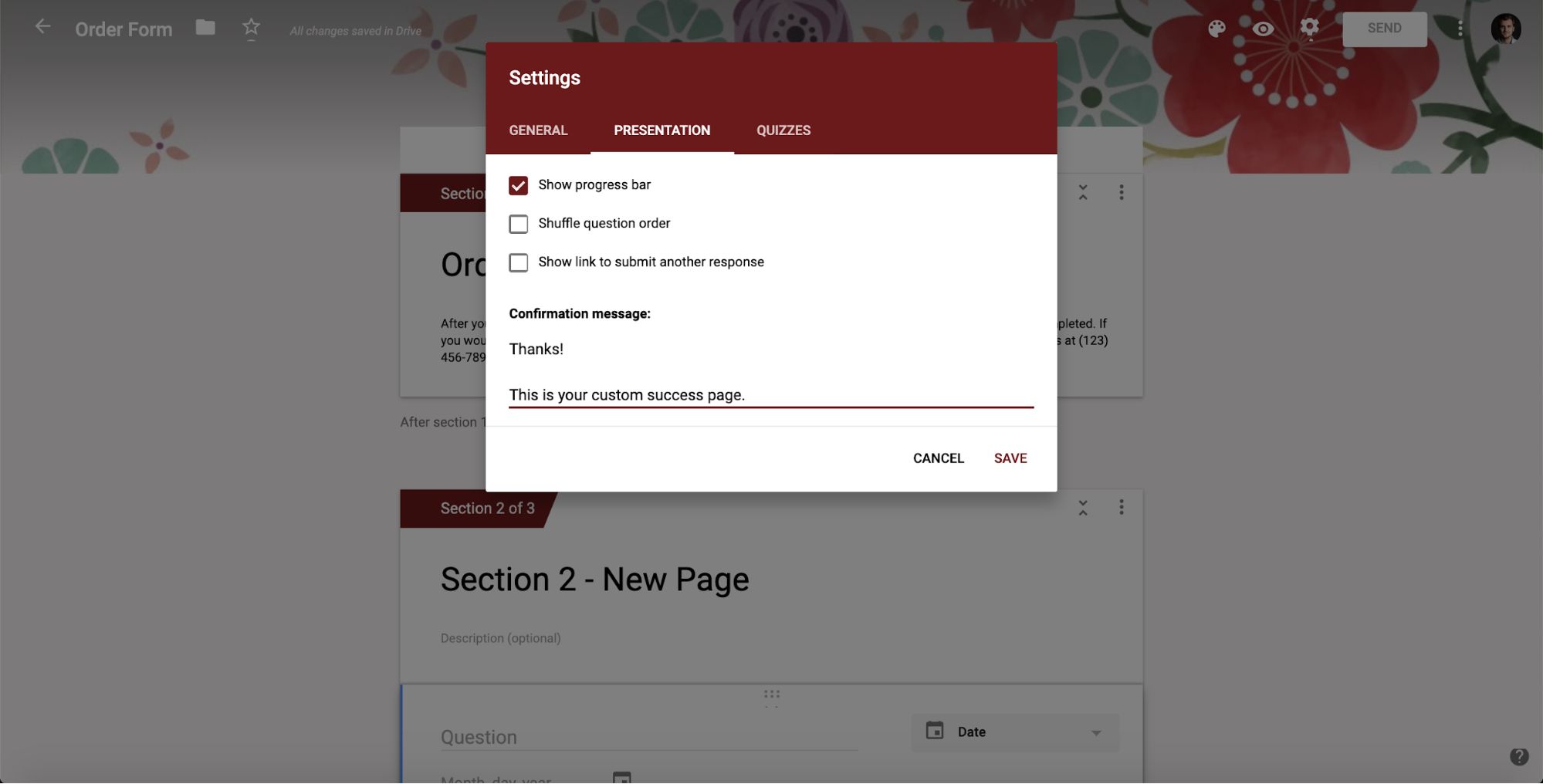 Google Forms allows you to customize the "confirmation message" that shows up when the page is submitted. That feature is quite limited, as it doesn't allow you to add links, images, video or any other elements except for text.
Paperform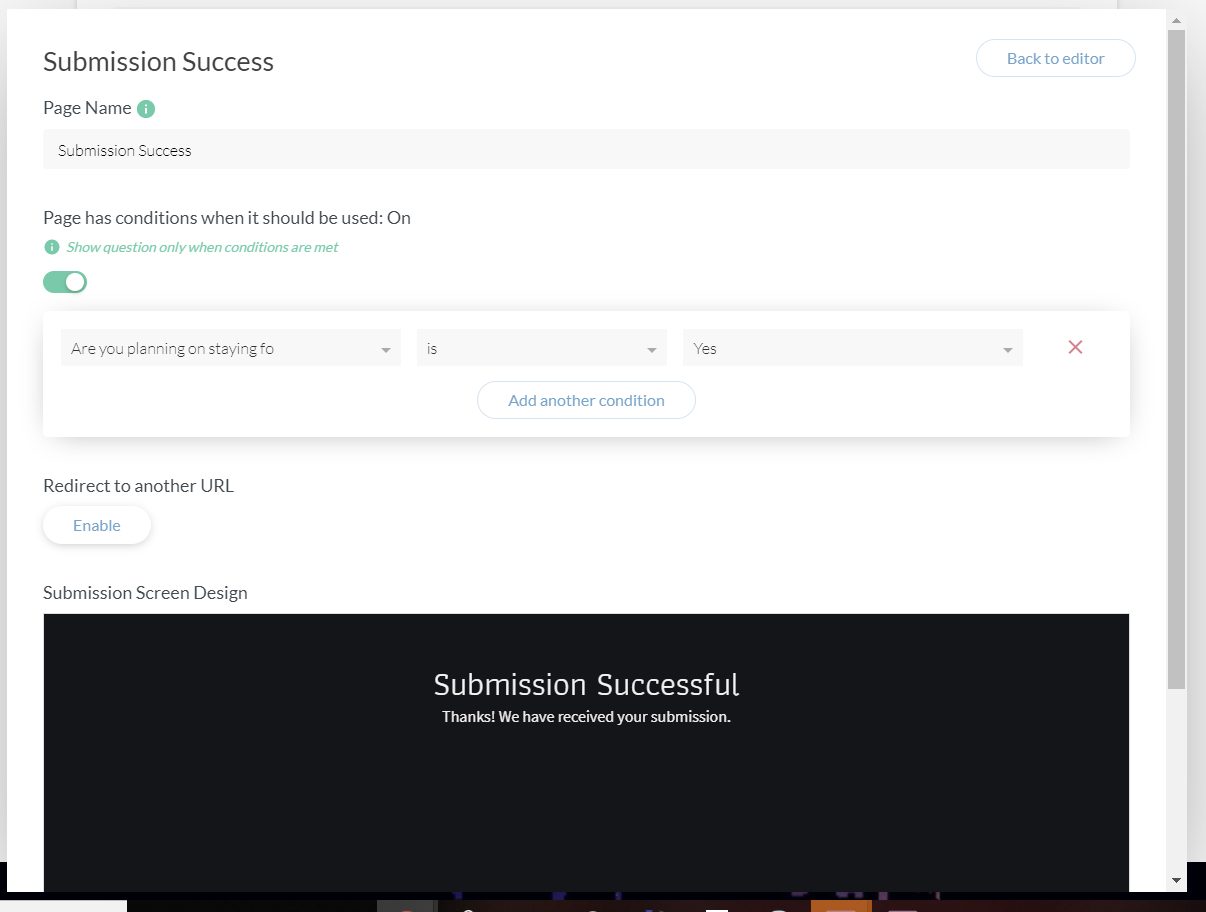 Paperform's success pages are highly customizable. Under the 'Success Pages & Redirects' menu, users can set up the success pages, add links, edit text, add images or embed videos.
Paperform also enables users to set up conditional success pages and redirects based on the respondents' answers to particular questions of the form, making the user-experience truly personalized.
Analytics
Google Forms
Paperform
Google Forms
Paperform
Form Analysis Features
Form views: No
Form submissions: Yes
Partial submissions: No
Completion Rate: No
Sales Figures: No
Export & Print Responses: Yes
Save & Resume Later: No
Form views:Yes
Form submissions: Yes
Partial submissions: Yes
Completion Rate: Yes
Sales Figures: Yes
Export & Print Responses: Yes
Save & Resume Later: Yes
Analytics Integrations
Integrations with Google's services.
27 Integrations including Google Analytics, Mixpanel, Kissmetrics and Facebook Analytics.
Made up your mind?
Try Paperform Free Now