What is the best Typeform Alternative?
Just like any other tool for your business, researching and comparing different services is the best way to find the perfect form builder for your needs.
While Typeform is a sound investment for those looking to create short and quick surveys and questionnaires, it is not necessarily the most dynamic form building tool for more complex or custom forms.
Paperform might be relatively newer software, but it offers tons of features, making it one of the most versatile tools on the market. It has an easy-to-use interface, as well as a bunch of robust and unique features like guided mode ("one question at a time" form experience), calculations, scoring, conditional logic, and pre-filling..
Let's take a deeper look into the features, functionality, user experience and customer reviews for both Typeform and Paperform to help you find the best form builder.
Typeform vs Paperform (Typeform Alternative): Quick Feature Comparison
Typeform
Paperform
Best For
Creating short surveys and questionnaires.
Creating fast, versatile and visually beautiful forms, surveys and questionnaires of all kinds.
GetApp Rating
4.7
4.9
GetApp Customer Support Rating
4.3
4.9
Guided Mode Experience
Yes
Yes
Typeform vs Paperform: A Detailed Breakdown
Ease of use
Typeform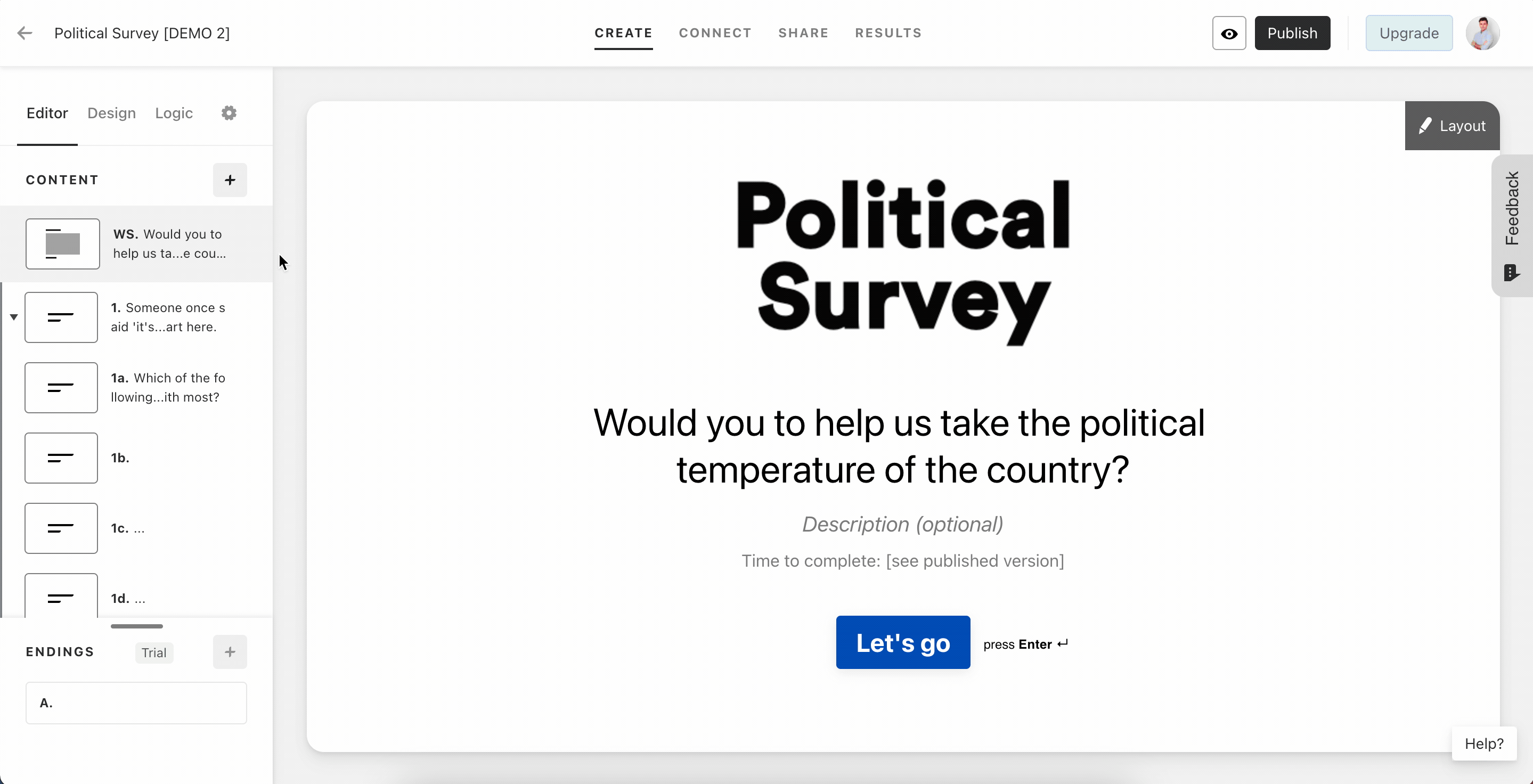 Typeform has a relatively easy-to-use interface. However, there are some issues that make it a little difficult to get used to.
By dividing all the form editing tools into vertical panels, Typeform makes it hard to find some important elements, including the 'Add new question' button, which is easy to miss.
Moreover, newer panels pop up on the far left-hand side of the form editor, making it a slightly disjointed experience for people used to reading from left to right.
Paperform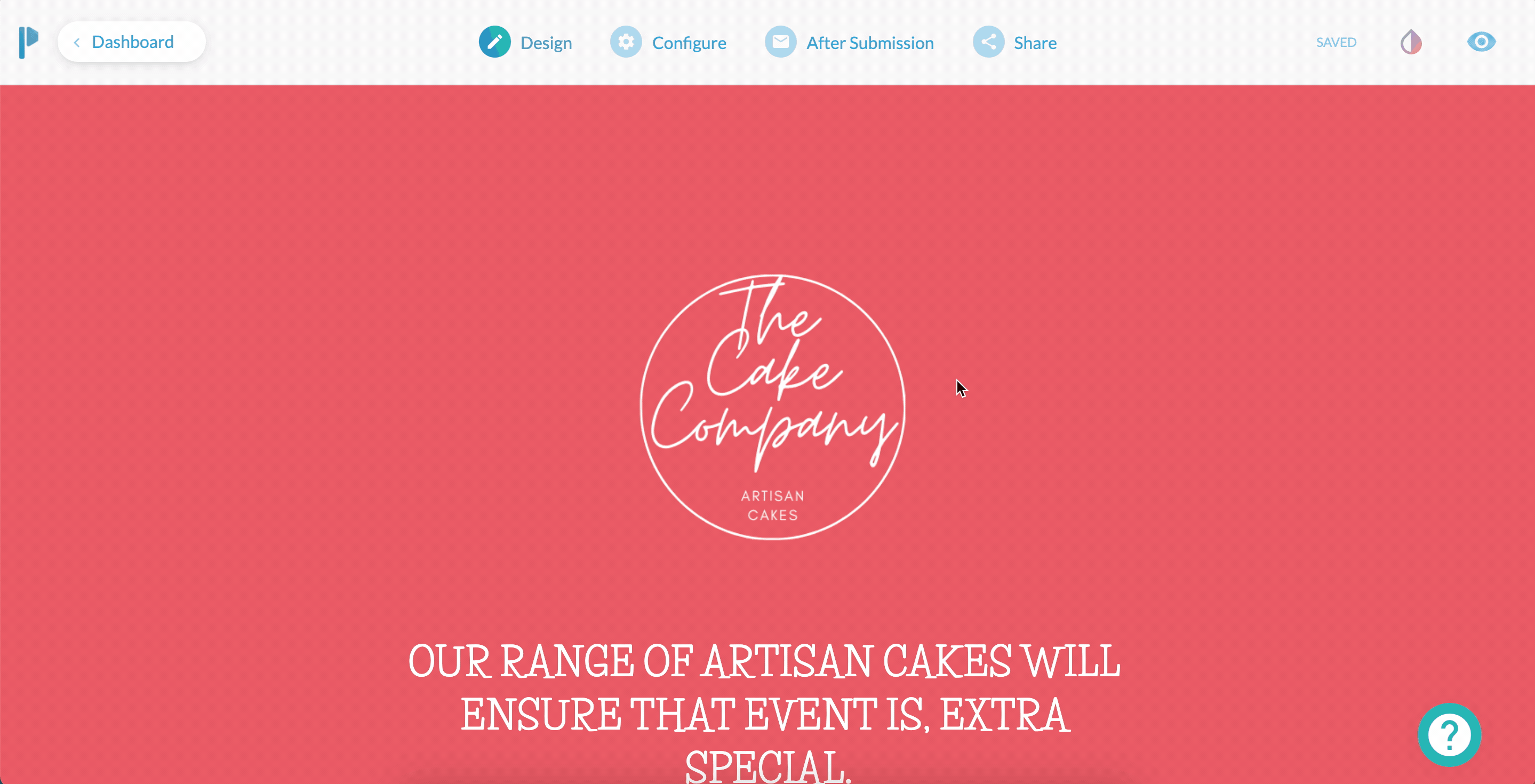 Paperform's interface is very straightforward and simple to use, mostly because the form editor is structured like a Word document. You can click anywhere, type anywhere, and add logos, images, products, and different field types with ease.
Instead of editing within constricting panels, Paperform offers a one-screen editor where contextual menus appear as needed. This allows you to edit with detail and keep the focus on what you need, when you need it.
You can also use slash commands in the editor to quickly create questions or insert content. Simply type "/" and select the field type.
Customization
Typeform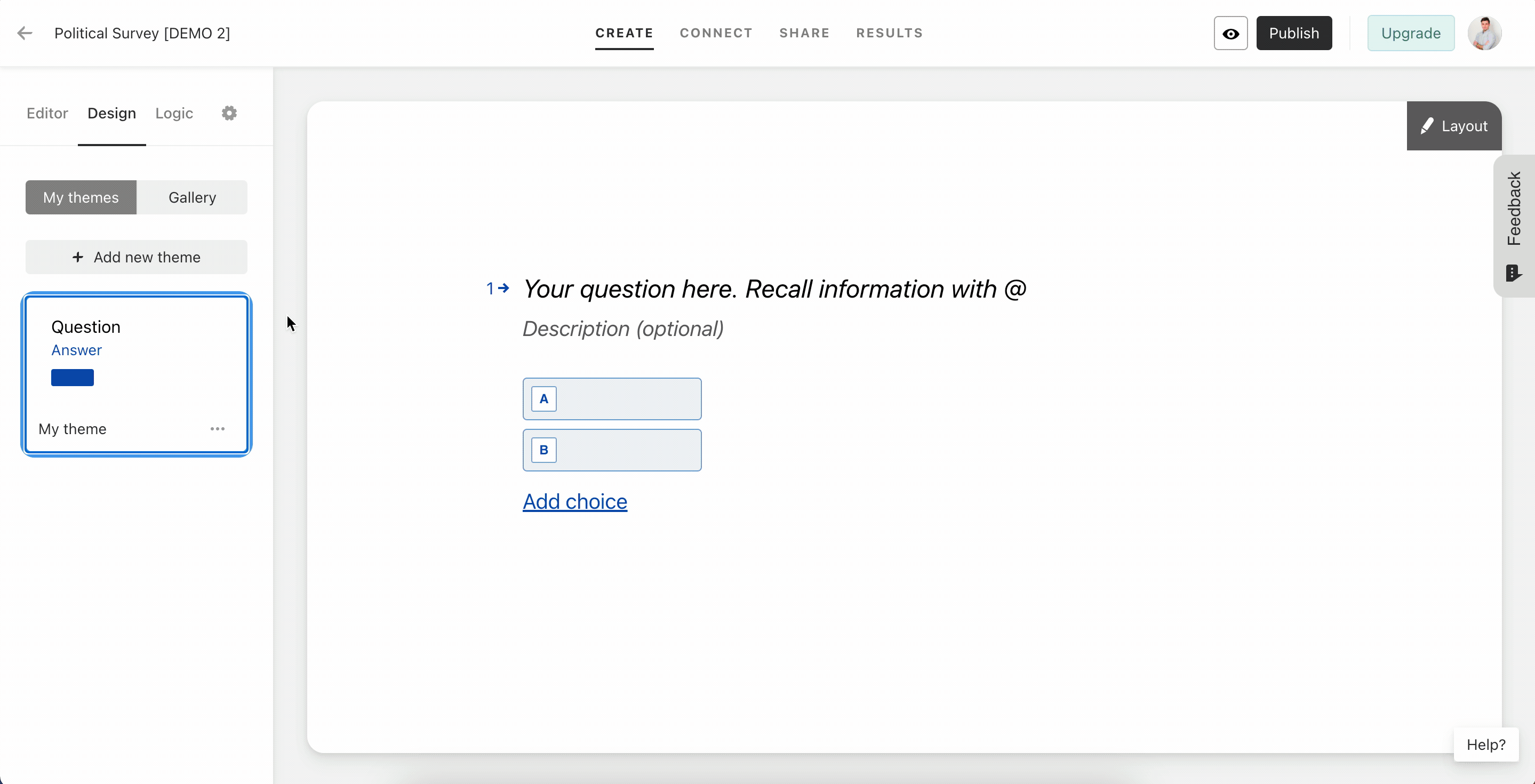 Typeform forms can be customized using the 'Design' menu on the left-hand side of the editor. The tool offers a helpful range of pre-designed themes that you can apply to your form if you're looking for inspiration.
Typeform also allows you to create your own themes, making it faster to create multiple forms with the same design if needed. If a theme doesn't float your boat, you can choose custom colours and fonts.
Adding elements like images, logos and videos to your form is where things get a bit tricky. These elements can be added, however, the placement and size of images and videos can't be changed within the tool. Images can only be added to certain parts of your form, and can't be moved or resized at all.
Paperform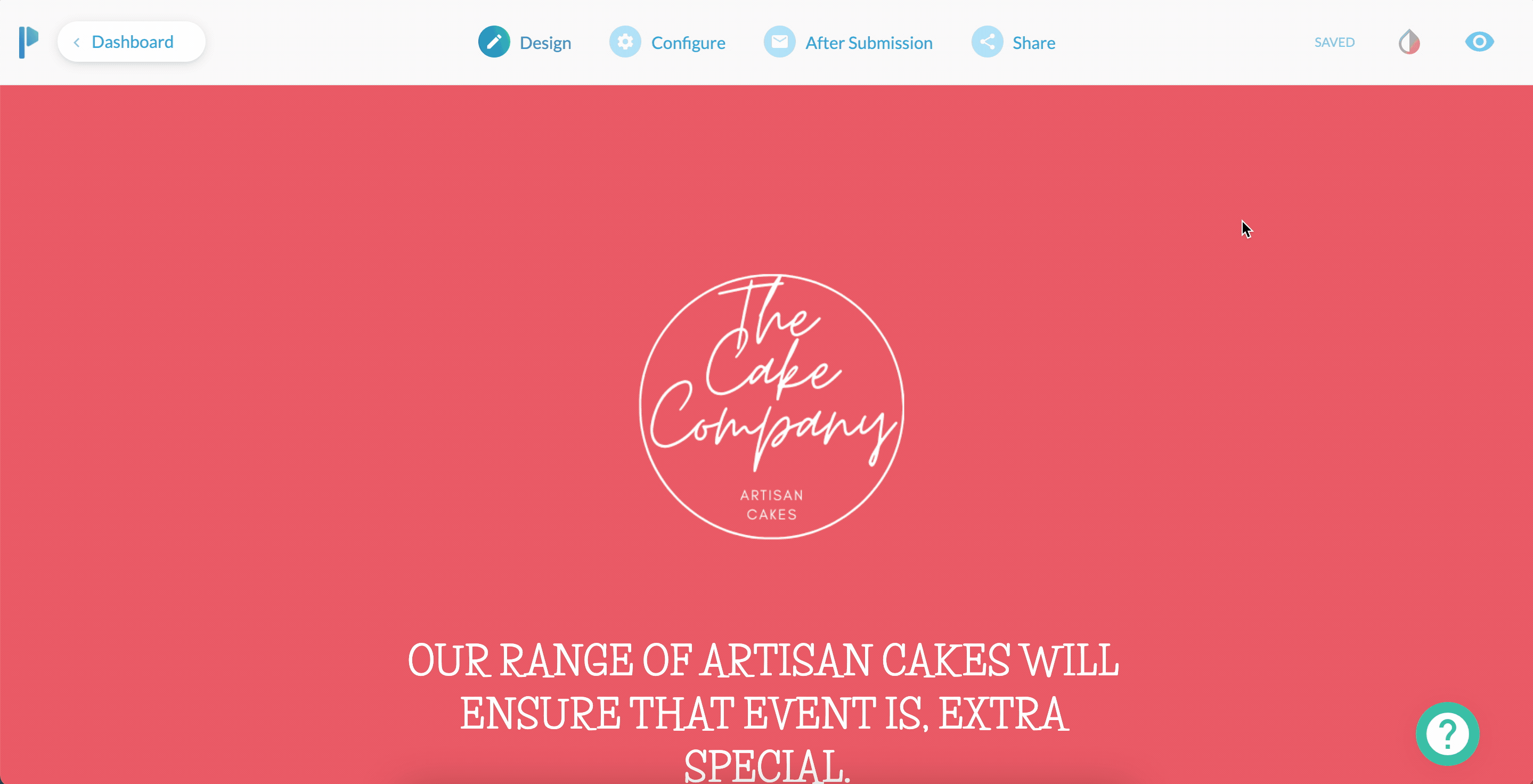 Paperform makes it easy to customize your forms and landing pages. From the 'Theme' menu on the upper right-hand side of the form builder you can edit just about every detail of your form. Change the colours, adjust the typography, logos, buttons, and background, or go one step further and modify the entire UI.
You can switch between a standard form experience, and a "one-question-at-a-time" guided experience at any time. We recommend you use the standard form experience for product pages, payment forms, or forms with lots of text and visuals. Guided mode works best for surveys, quizzes, or forms that are expected to be filled out primarily on mobile devices.
Another highlight is the ability to add images, videos and GIFs at any point within the form. Unlike Typeform, these elements can easily be moved around and resized within the form editor. Need even more customization? Our platform also allows you to add custom HTML/CSS.
Paperform does not offer any pre-built themes, but it does have a collection of beautiful and unique form templates that can be used and customized for any need. Much like Typeform, Paperform also allows users to create their own themes and apply them to multiple forms if needed.
Learning support
Typeform
Typeform has a centralized help centre where answers to common questions are available. For individual support, Typeform offers a standard contact form on their website where you can submit queries. Responses can generally be expected within 1 day.
Live Chat: No
Youtube Tutorials: Yes
Paperform
Paperform also has a help center where users can get answers to common questions. Unlike Typeform, Paperform offers live chat support, which means your individual queries can receive a response within hours.
Live Chat: Yes
Youtube Tutorials: Yes
Template Library
Typeform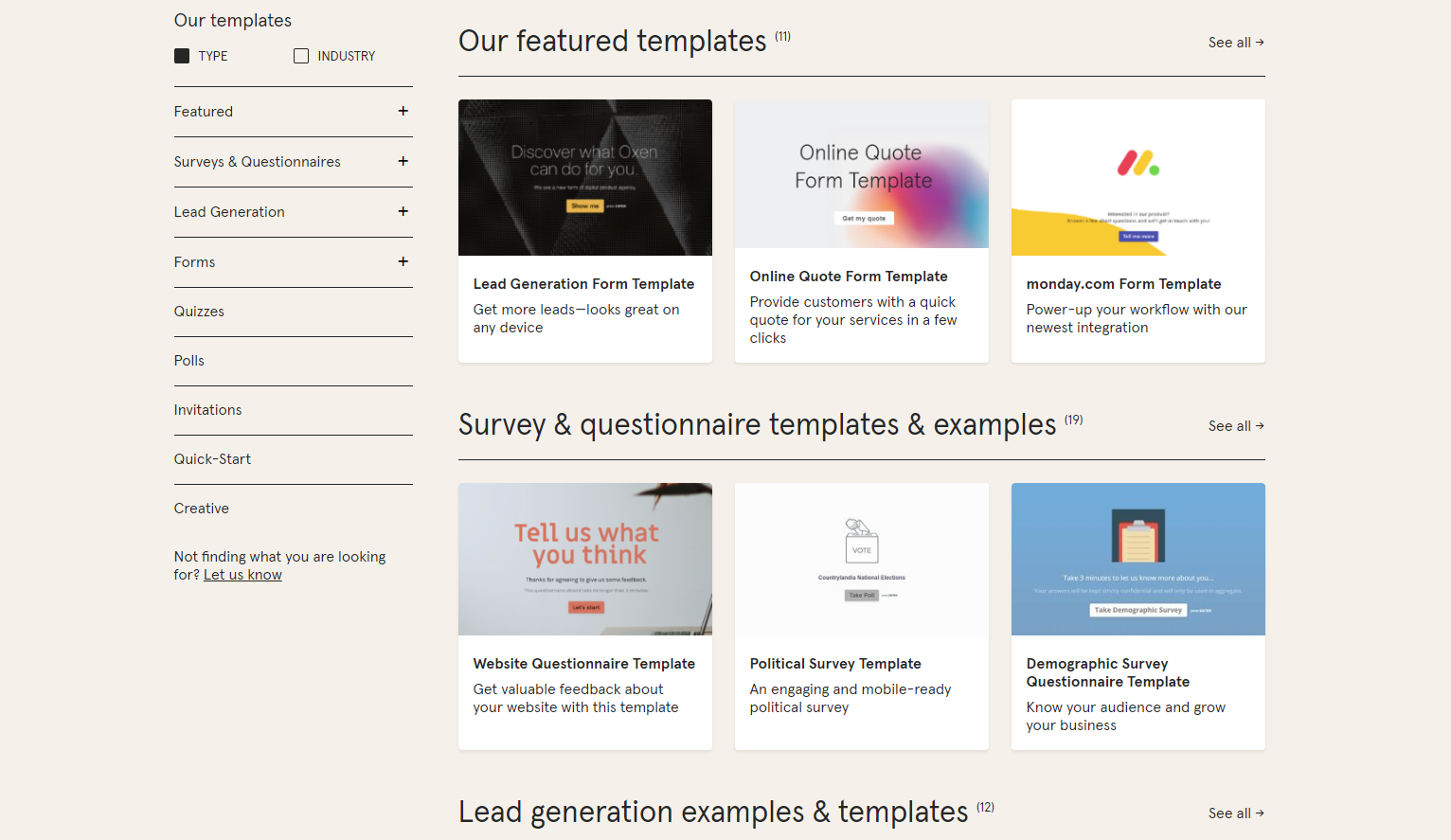 Typeform has a collection of around 100 templates, ranging from survey and questionnaire templates to templates for marketing forms. The best thing about Typeform's library is that each individual template contains a few tailored and unique questions, making it easier to derive inspiration for questions if you're stuck.
Paperform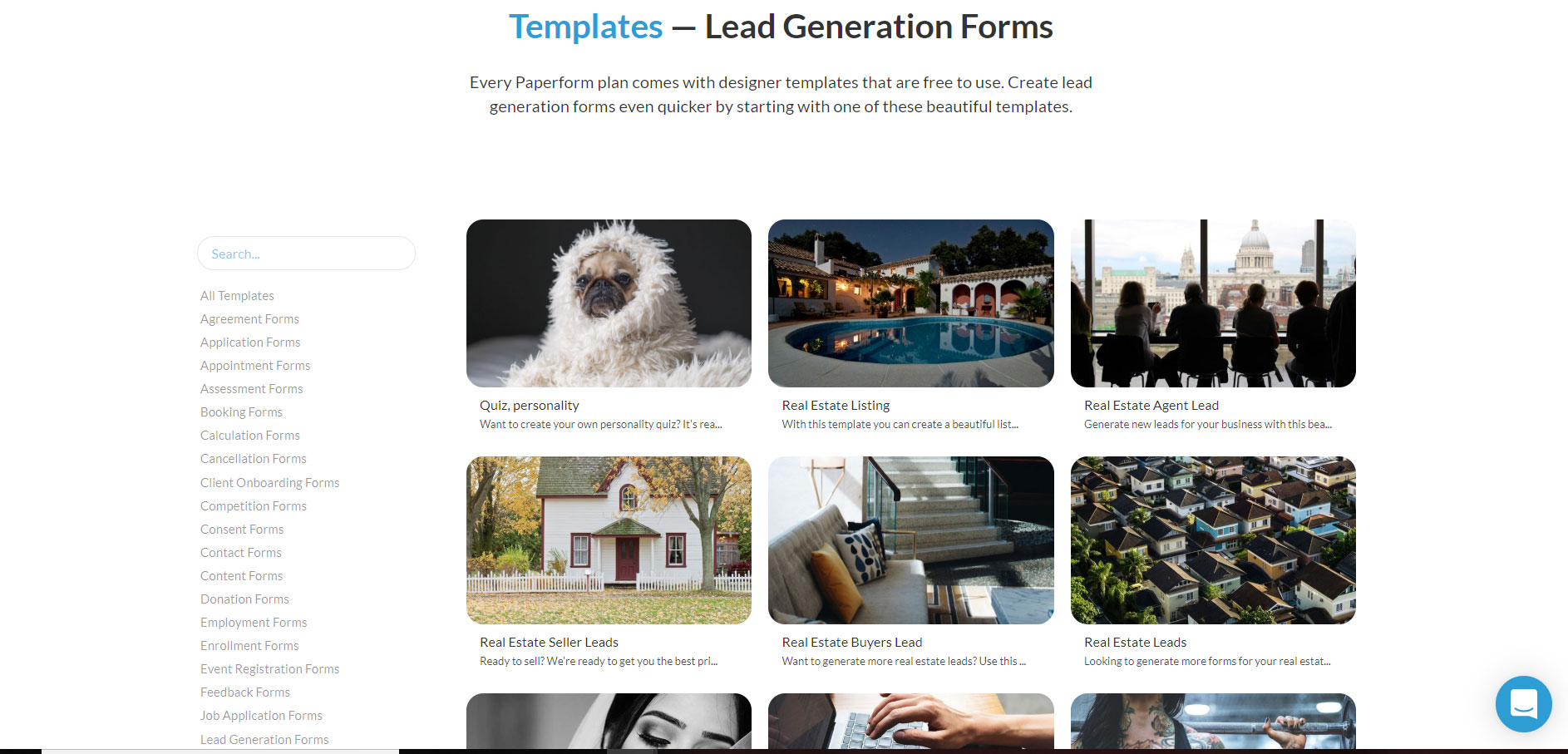 Paperform offers 500+ customizable templates to choose from. The templates cover just about every possible use-case and industries, and are thoughtfully designed and themed by experts to help make it easier to create beautiful forms, product, and payment pages. Like Typeform, Paperform's templates also contain certain questions that are unique to their category. Each template also comes with a short text tutorial explaining how to use and customize it.
Payment Features
Typeform
Paperform
Payment Integrations
Typeform only supports payments through Stripe.
Stripe, PayPal, Square, Braintree
Payment & eCommerce features
Automated responses: Yes
Receipt generation: Yes
Tax addition: No Subscriptions: No
Invoices: Yes
Quotes: Yes
Coupons: Yes
Automated responses: Yes
Receipt generation: Yes
Tax addition: Yes
Subcriptions:Yes
Invoices: Yes
Quotes: Yes
Coupons: Yes
Advanced Form Features
Pagination
Typeform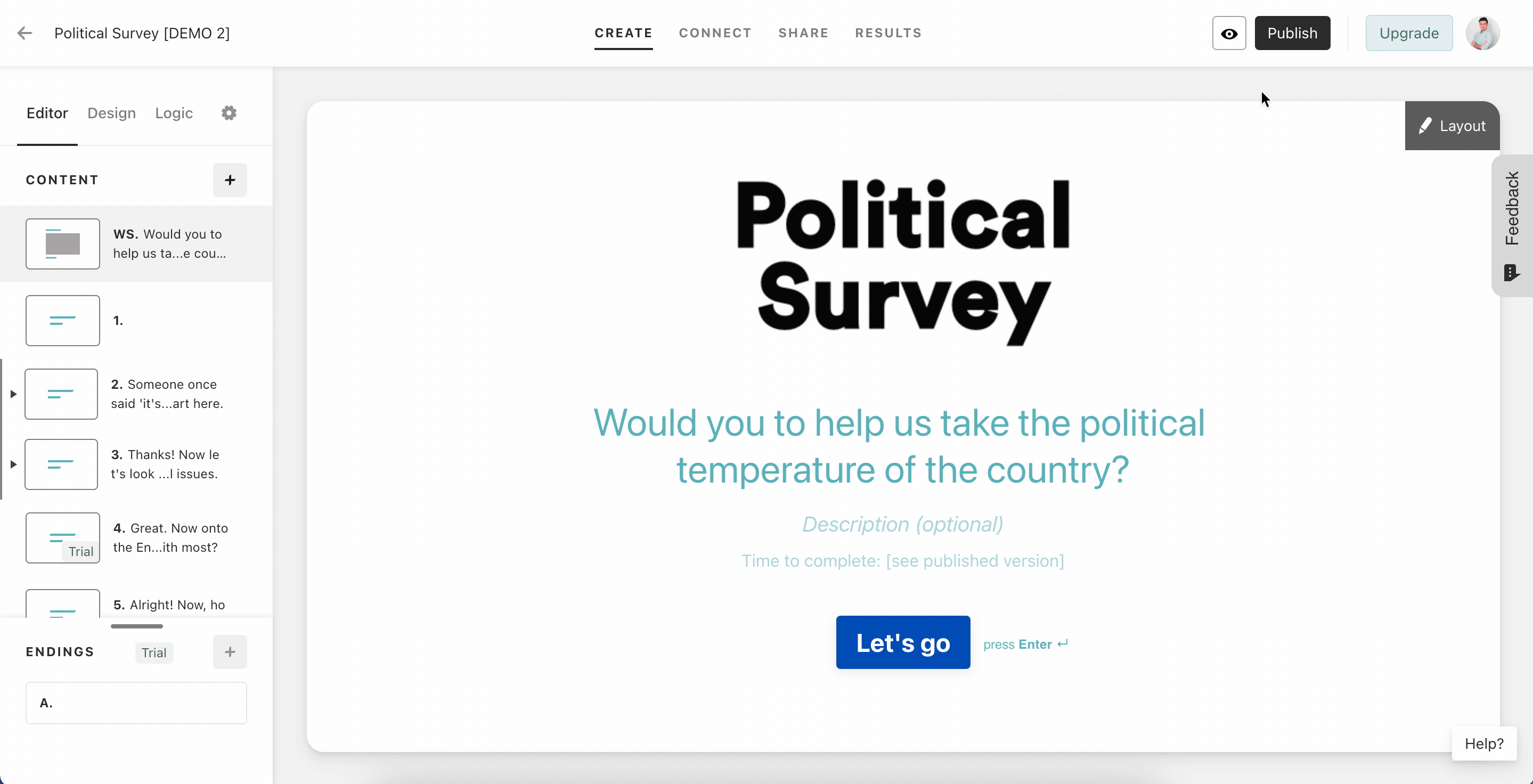 Pagination is technically not offered with Typeform, as forms cannot be divided into sections and pages. Since Typeform only displays one question at a time, the entire form lives within one scrollable page.
The lack of pagination is far from perfect for many types of forms (product pages or payment forms, among others), and makes it impossible to create static landing pages with text and visuals.
Though, you can add a cover page and a thank you page to your form. You can also add multiple endings, and use conditional logic to determinewhich success page your respondents land on upon completion.
Paperform
Dividing your form into pages and sections is incredibly easy with Paperform. imply click wherever you want to create a new page and click on the 'Add break' icon that pops up.
The advantage of being able to divide forms into pages is that longer forms can be made more approachable when divided into steps. This reduces cognitive load and friction for respondents, leading to increased form completion rates.
Paperform also allows you to add beautiful cover pages to your forms, as seen in the video above, which can give your form a more branded and professional feel.
Question Logic
Typeform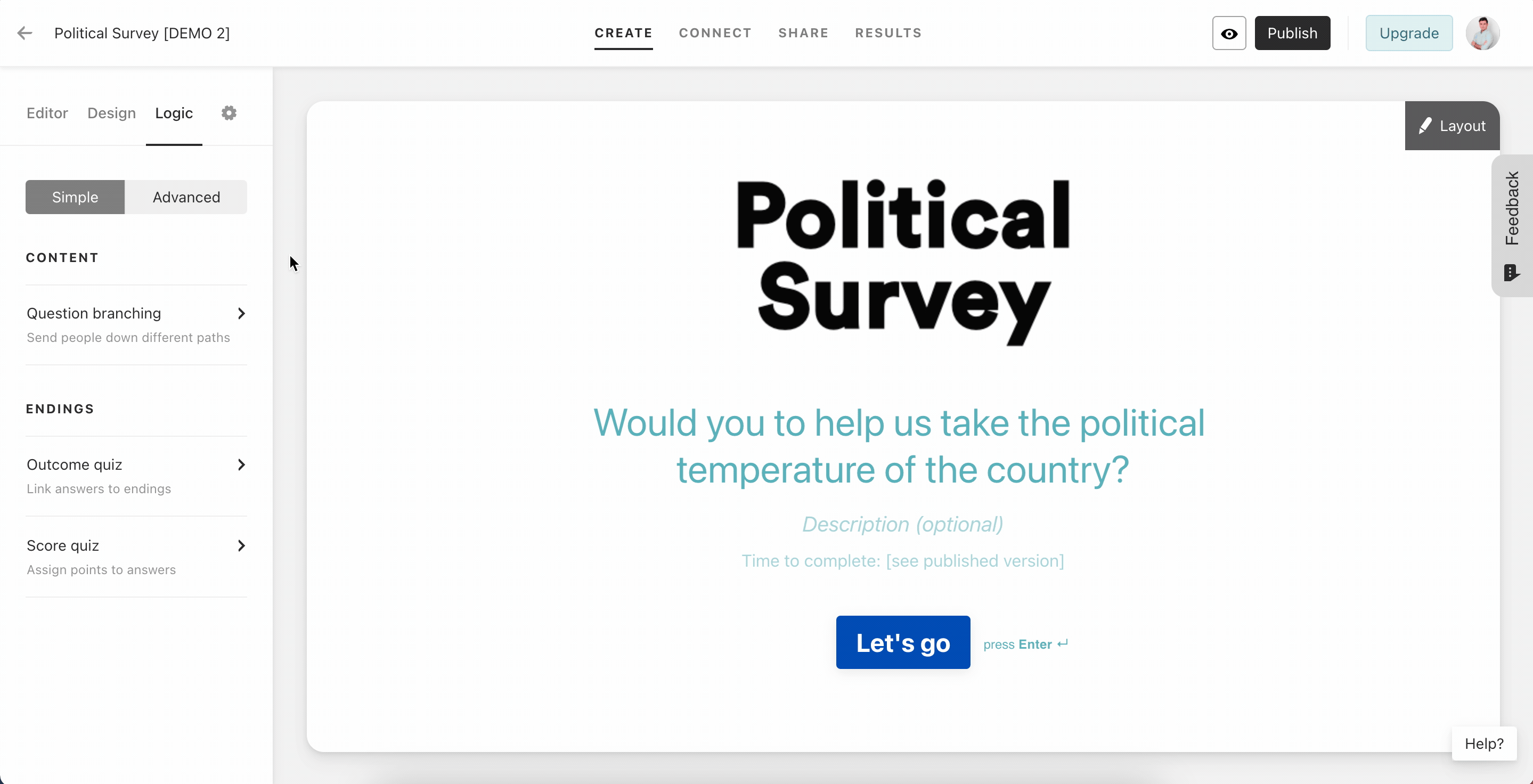 Typeform has a separate "Logic" menu that allows you to add conditions for individual questions. The functionality is simple to set up, though can be confusing at times as it's split into "Simple" and "Advanced" tabs, with multiple features under each (as seen above).
Paperform
Paperform has a slightly different interface for question logic. Instead of redirecting the user to a separate menu, Paperform allows you to create conditions through individual questions, making the process incredibly intuitive. You can also set up multiple conditions for any question, as seen above.
You can use these logic rules to show and hide questions or entire form pages. And if you're not afraid of getting your hands dirty with Calculations (Excel-like functions), you can transform and inspect answers, and alter your form's behavior in real-time.
The same logic can be used to control Paperform's email automation, integrations, and success pages.
Success pages & redirects
Typeform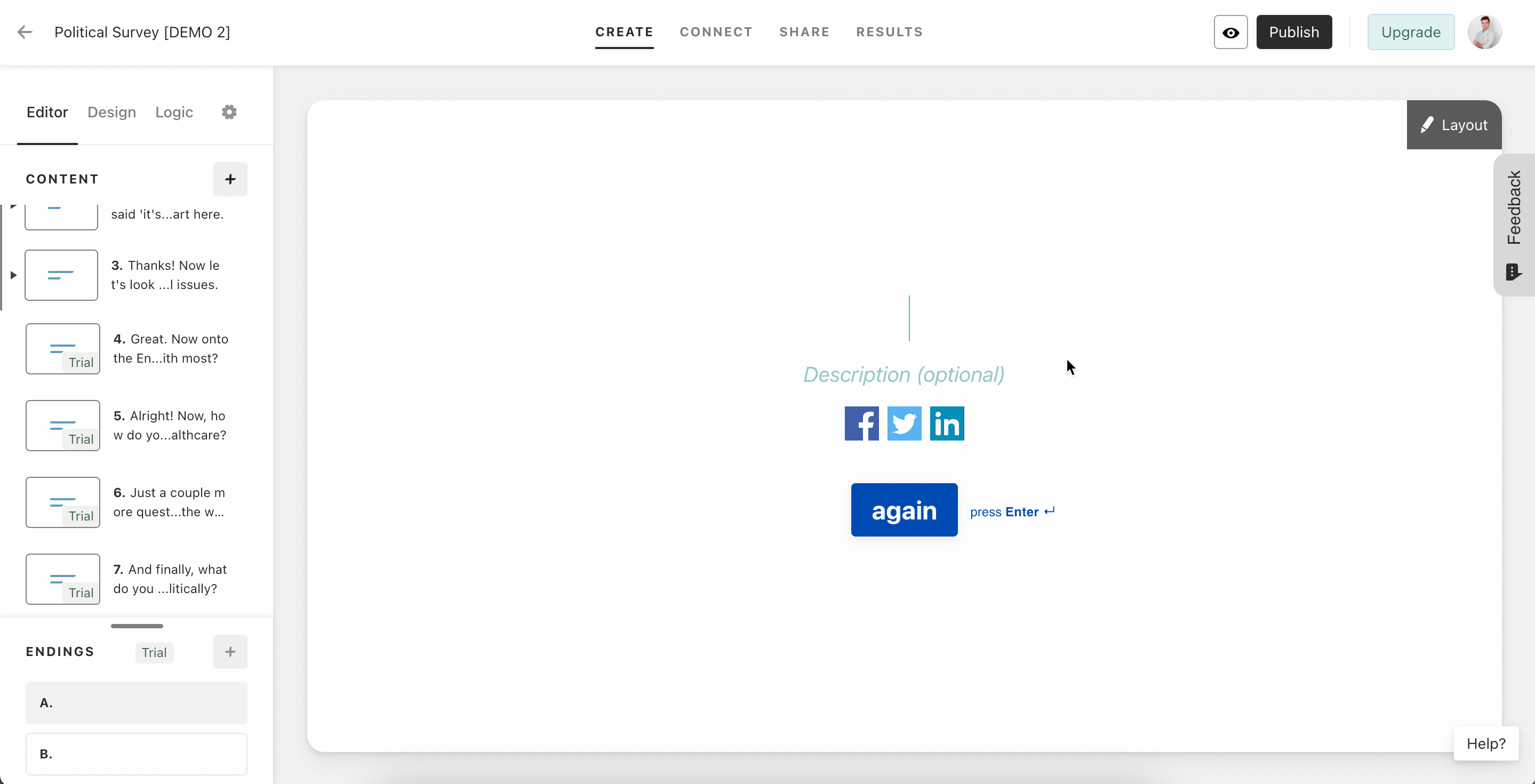 Typeform offers an 'Ending' page, which is quite customizable and adopts the theme of the rest of your form by default. You can add an image to this page, change the text of the button, insert an external link, and even add some social share buttons to it if you wish.
Question logic can be used to show a customized success page based on how the respondent answered a particular question.
Paperform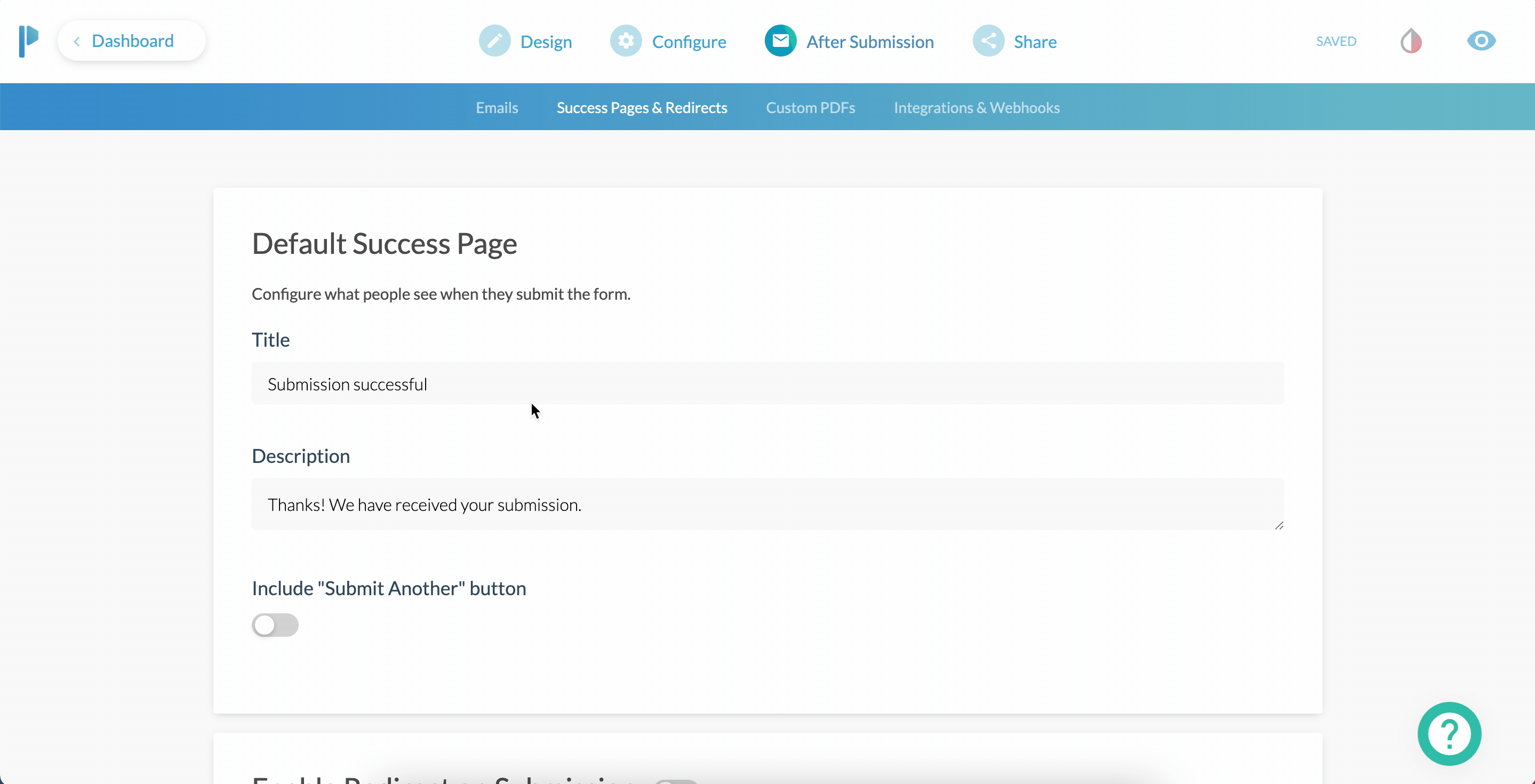 Like Typeform, Paperform's success pages are also highly customizable. Using the 'Success Pages & Redirects' menu in the form editor, you can set up simple success pages, edit text or redirect the user to a page of their choice.
Easily add any images, video or media to success pages, as well as use answer piping to automatically display a certain question or response on the success page based on form responses. This is particularly useful for quizzes or surveys that require a calculation or score to display at the end.
Similarly, you can also set up conditional success pages and redirects based on how the respondent has answered particular questions, making the pages even more tailored to each individual. .
Success pages also match the formatting style of the rest of your form by default.
Analytics
Typeform
Paperform
Form Analysis Features
Form views: Yes
Form submissions: Yes
Partial submissions: No
Completion Rate: Yes
Sales Figures: No
Export & Print Responses: Yes
Save & Resume Later: No
Form views:Yes
Form submissions: Yes
Partial submissions: Yes
Completion Rate: Yes
Sales Figures: Yes
Export & Print Responses: Yes
Save & Resume Later: Yes
Analytics Integrations
23 Integrations including Google Analytics, Facebook, Yalla and Lighthouse.
27 Integrations including Google Analytics, Mixpanel, Kissmetrics and Facebook Analytics.
Made up your mind?
Try Paperform Free Now