The Best SurveyMonkey Alternative: Paperform
Chances are, if you've ever tried to build an online survey, you would have come across SurveyMonkey. While the platform has proven to be a popular way to create surveys for any need, it's not always the best option for those looking to create more flexible, beautiful and customizable surveys and forms.
Paperform might be a newer name, but it offers a vast array of features that make it a more user friendly option to create forms that truly feel yours. With powerful features to help you brand your forms, set up complex functions like calculations and scoring, and even interact with respondents in real time - it's a worthy alternative to consider.
Let's take a deeper look into the features, functionality, user experience and customer reviews for both SurveyMonkey and Paperform to help you land on the right form builder for your needs.
SurveyMonkey vs Paperform: Quick Feature Comparison
SurveyMonkey
Paperform
Best For
Creating surveys that collect comprehensive insights.
Creating fast, versatile and visually beautiful forms, surveys and questionnaires of all kind.
GetApp Rating
4.7
4.9
GetApp Customer Support Rating
4.4
4.9
Export Results To CSV
Yes
Yes
SurveyMonkey vs Paperform: A Detailed Breakdown
Ease of use
SurveyMonkey
Overall, SurveyMonkey is fairly intuitive and easy to get used to. Thanks to the guided onboarding flow, knowing what to do next on the platform is rarely a challenge.
However, the platform does have some UX features that might be a little more difficult to navigate at first. The placement of important steps and buttons can sometimes feel unnatural (such as the 'Start With This Template' button, which is hidden at the very bottom right hand corner of the page).
Moreover, as each individual feature is divided into its own submenu, it can be slightly confusing to choose between the Question Bank and Builder panels, as each is essentially a different path to a similar result.
Paperform
Paperform's interface is simple and sleek, making it an easy platform to use - even for those not well versed with digital creation. Because the form builder is structured like a Word document, you can click anywhere, type anywhere, easily add logos, images, products, questions and different types of fields.
Instead of editing through a variety of confusing submenus, Paperform offers a one-screen editor where menus pop out over the screen as needed. This allows you to edit everything with detail and makes it easier to focus on singular features and elements.
Customization
SurveyMonkey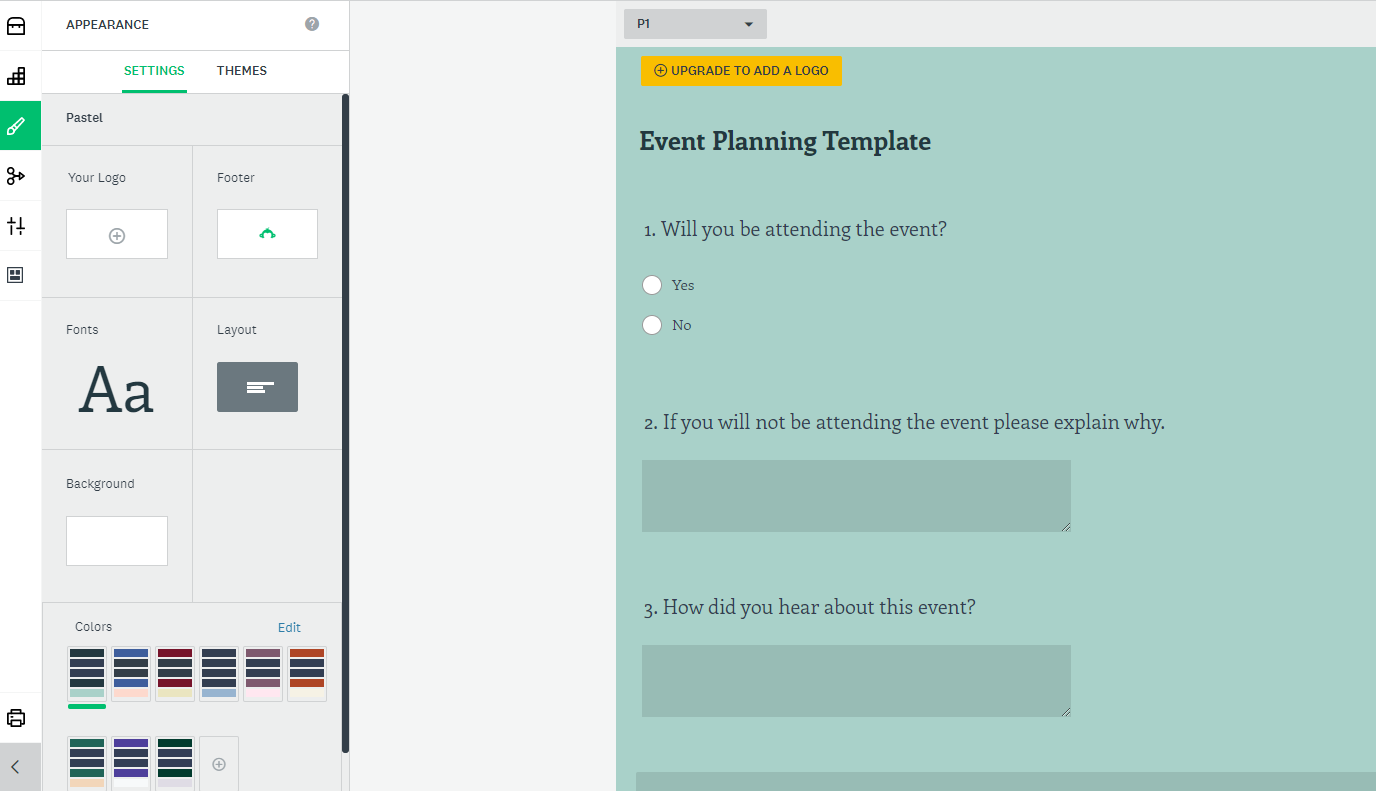 As far as theming and visual customization goes, SurveyMonkey leaves a lot to be desired. While the platform allows you to complete basic actions like change colours and fonts, it doesn't accommodate as easily for inserting media or images.
By far, the most limiting aspect of using SurveyMonkey can be the lack of flexibility when it comes to restructuring page elements. As SurveyMonkey is designed to create basic surveys, the platform may not be suitable for those looking to create customized and branded forms for data collection. Images are limited to being logos and cannot be moved to a place of your choice on the form, while headings and text can also only be added at the very start of the form.
Paperform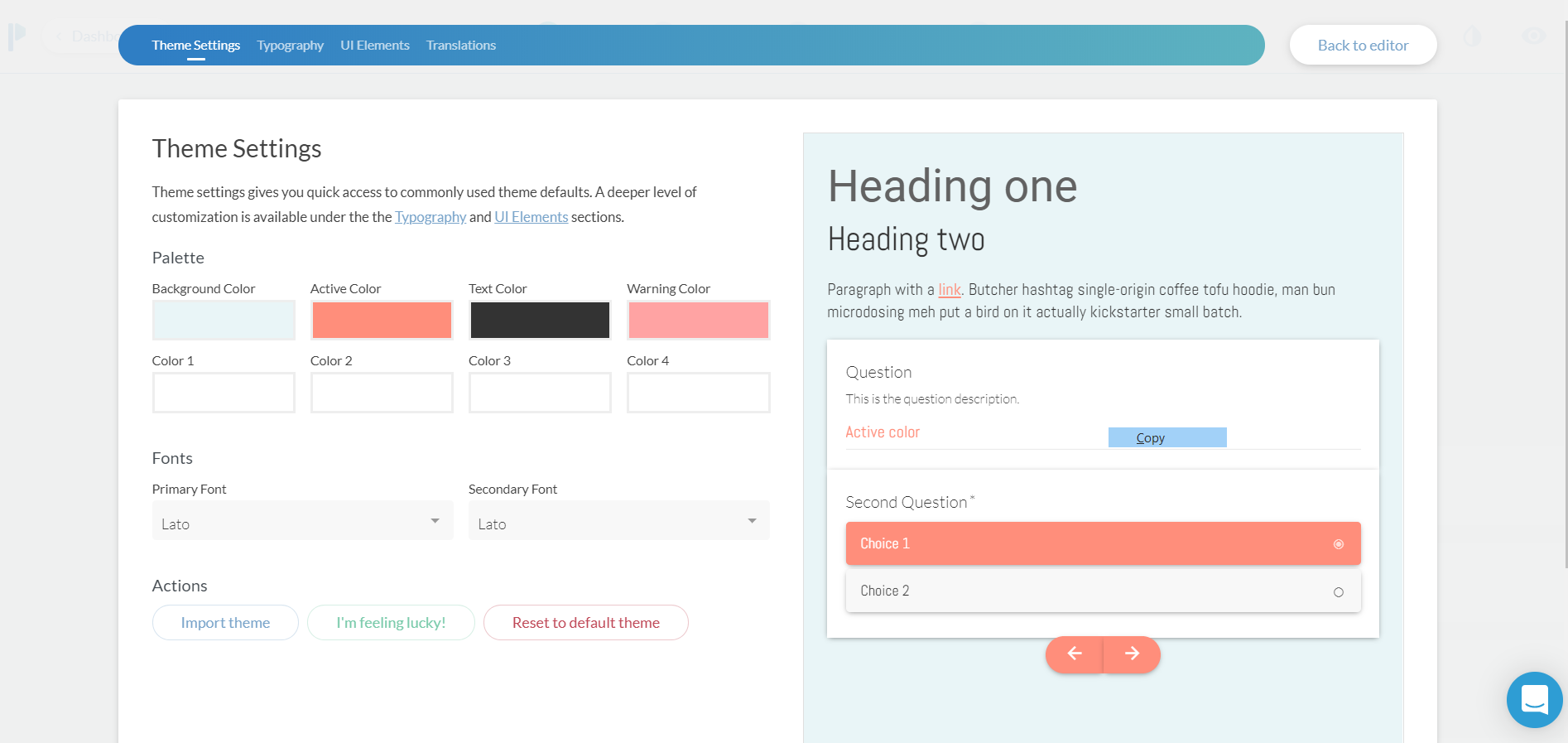 Paperform offers a highly customizable interface. The 'Themes' menu on the upper right-hand side of the form builder opens up an editing menu that allows users to change colours, typography, logos, buttons, UI elements, background and more.
The form editor offers an immense amount of flexibility, as you can add anything from images and videos to GIFs and media at any point within the form. Unlike SurveyMonkey, these elements can easily be moved around and resized within the form editor. The platform also allows you to add Custom HTML and CSS in case you're looking for some extra customization.
Paperform also offers a collection of beautiful and unique form templates that can be customized for any need. Each template is visually unique, making it the perfect way to get design inspiration for your forms.
Learning support
SurveyMonkey
SurveyMonkey has a comprehensive help centre where answers to common questions are available. For individual support, SurveyMonkey has a phone support option for paid subscribers or a contact form for those willing to wait a few days for a response.
Live Chat: No
Youtube Tutorials: Yes
Paperform
Paperform also has a help centre where users can get answers to common questions. The best part is that Paperform also offers live chat support (even for unregistered users), making it incredibly easy to receive responses for individual queries within hours.
Live Chat: Yes
Youtube Tutorials: Yes
Template Library
SurveyMonkey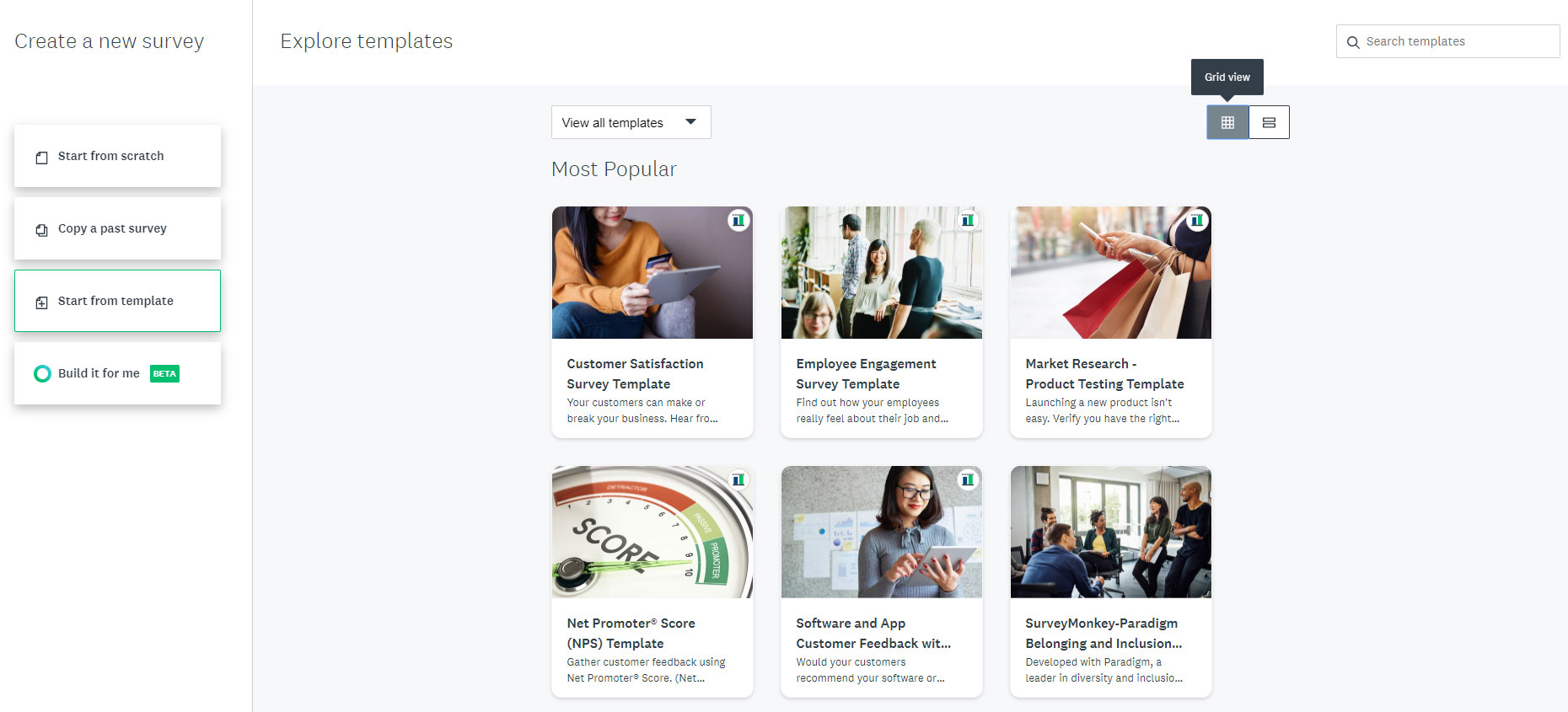 TSurveyMonkey offers a collection of over 100 templates, categorized by industry and metrics. Most templates have a standard design, which means that they're not the best for design inspiration. However, if you have a very specific type of survey to create, SurveyMonkey templates can be a big help as they all come with questions that are tailored to a particular use (for eg. NPS surveys).
Paperform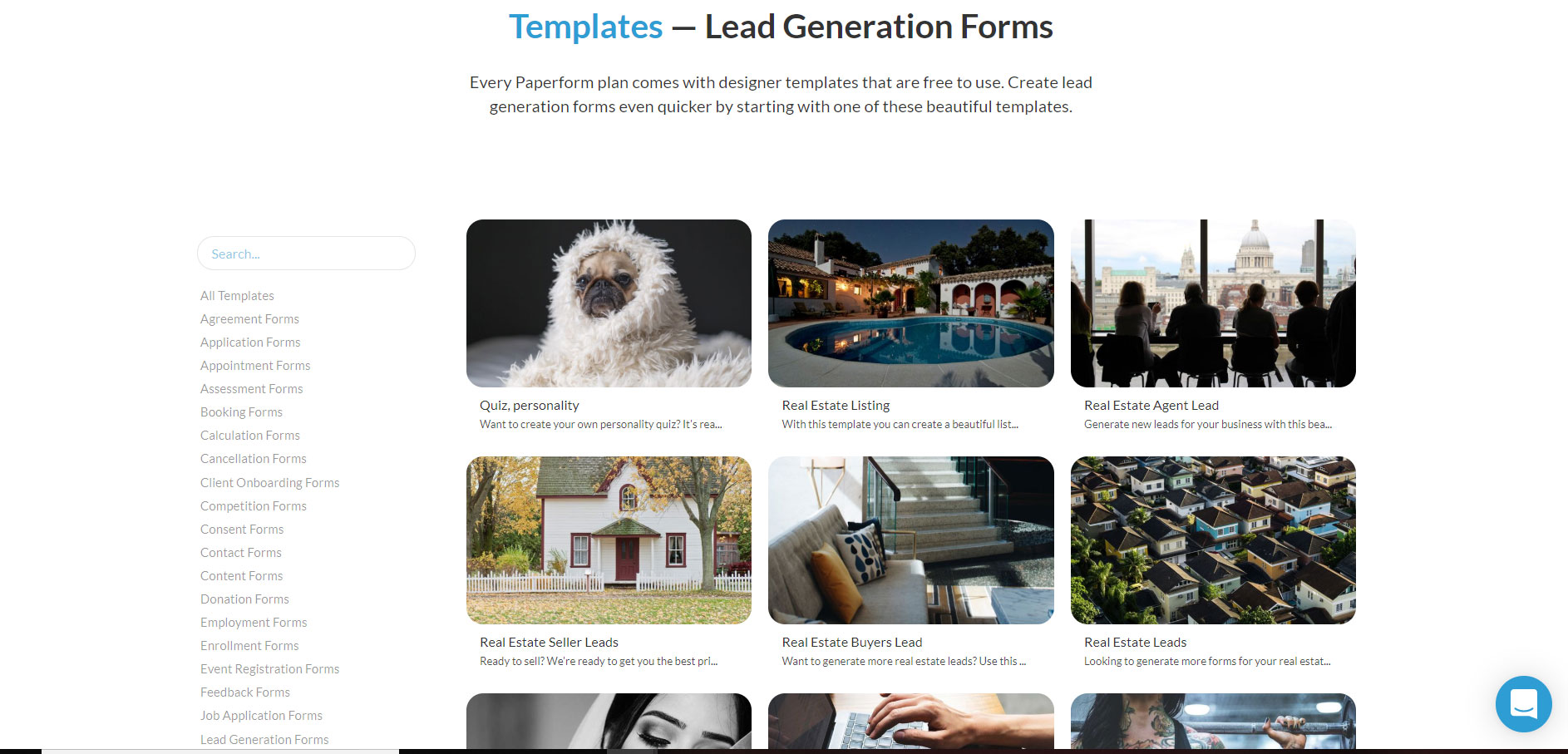 Paperform has a comprehensive library of over 120 templates to choose from. The templates cover most types of forms and use cases, and can be used to create any type of form fast. Muc like SurveyMonkey, Paperform's templates also contain questions that are unique to the form type.
Payment Features
SurveyMonkey
Paperform
Payment Integrations
SurveyMonkey only supports payments through Stripe.
25+ payment gateways supported, including: Stripe, PayPal, Square, Chargebee, Braintree, Practice Ignition, Zoho Subscriptions, Chargify, Revolut.
Payment & eCommerce features
Automated responses: Yes
Receipt generation: No
Tax addition: No Subscriptions: No
Invoices: No
Quotes: Yes
Coupons: Yes
Automated responses: Yes
Receipt generation: Yes
Tax addition: No
Subcriptions:Yes
Invoices: Yes
Quotes: Yes
Coupons: Yes
Advanced Form Features
Pagination
SurveyMonkey
Adding new pages and page breaks to your forms is simple with SurveyMonkey. To insert page breaks between questions, you can select the 'Page Break' option from the 'Builder' menu and drag it below the question you'd like a break after. In order to add a new page, simply scroll to the bottom of your form and click on 'New Page.'
Paperform
With Paperform, the process for dividing your form into pages and sections is even easier. Simply click on the 'Add break' icon that pops up on the in-line menu, and create a page break wherever you need.
Paperform also allows you to add beautiful cover pages to your forms, as seen in the video above, which can give your form a more branded and professional feel.
Question Logic
SurveyMonkey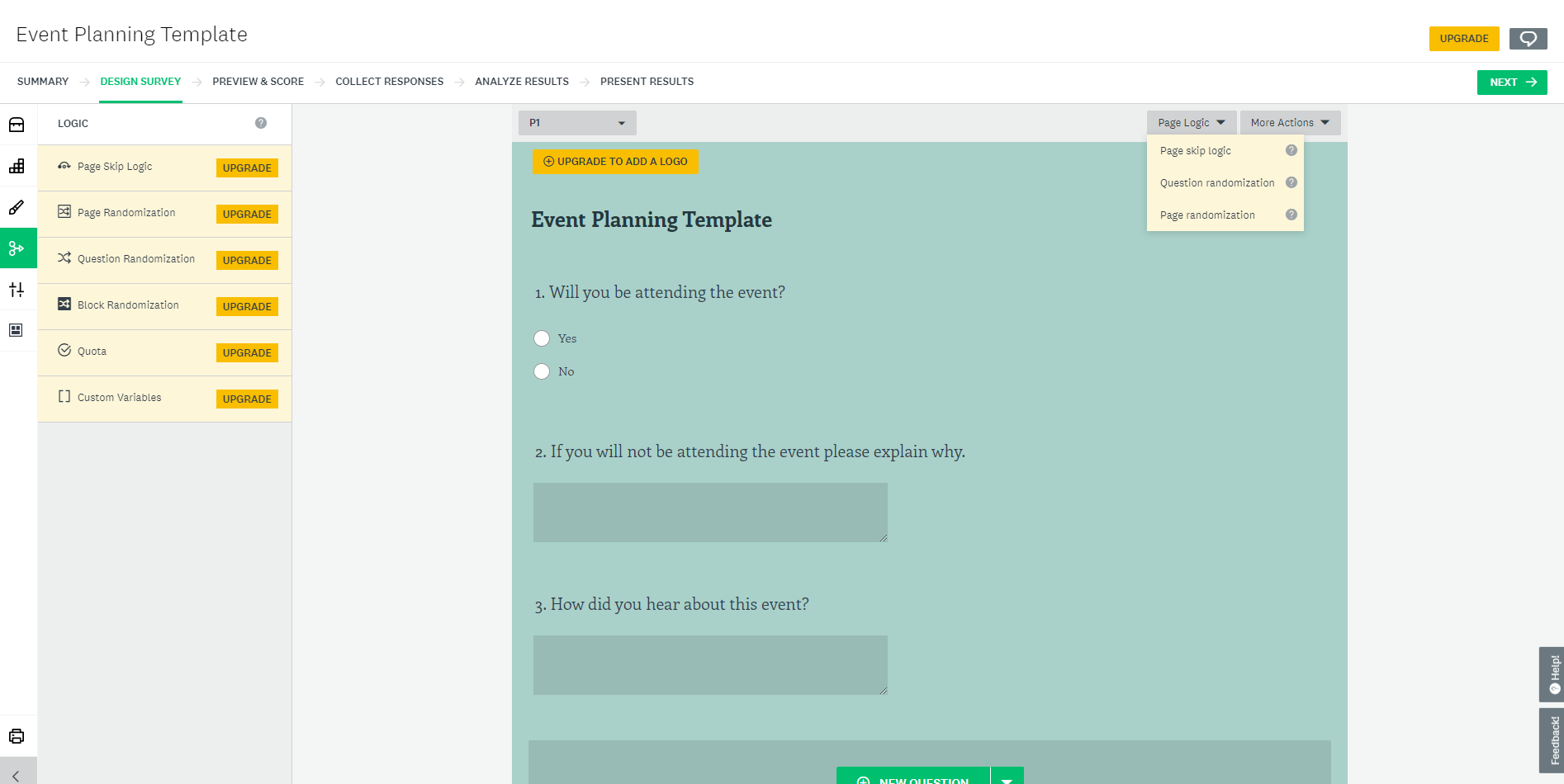 SurveyMonkey's logic features are only available to premium users. They allow you to skip questions or disqualify respondents based on which pages they have completed and randomize the presentation of questions to alleviate question order bias.
While these features are ideal for someone looking to only create surveys, they're not as well suited if you're hoping to create more complex data collection forms.
Paperform
Paperform has a slightly different interface for question logic. Instead of redirecting the user to a separate menu, Paperform allows you to create conditions through individual questions, making the process incredibly easy and visual. You can set up multiple conditions for any question, allowing you to interact with respondents in real time based on how they respond to your questions.
Success pages & redirects
SurveyMonkey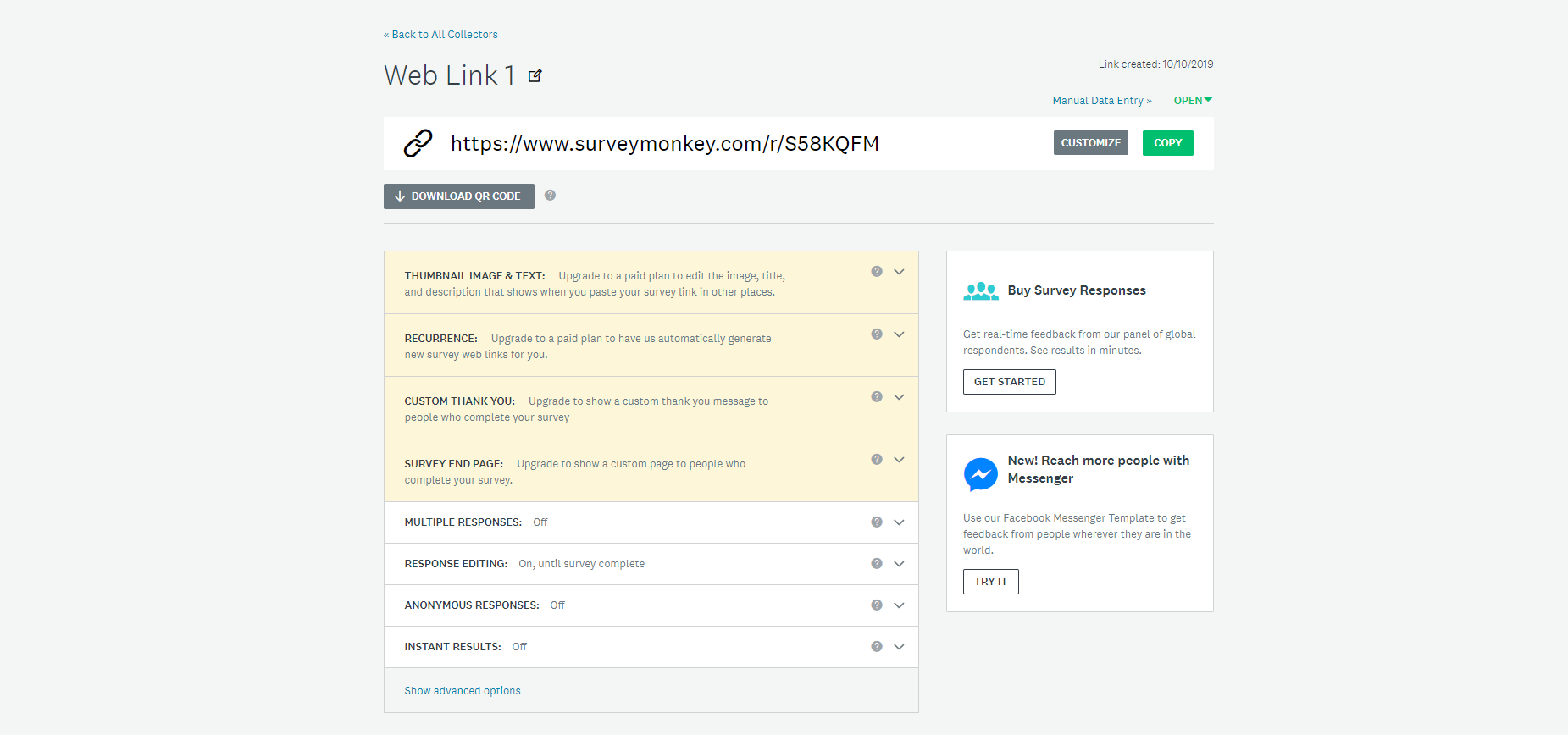 SurveyMonkey only allows premium used to create custom Thank You pages. Confusingly, this option is not part of the form design process and is instead presented during the Survey Collection phase. While the Thank You page is conveniently themed to match the rest of your form, unfortunately, it doesn't allow you to customize the language or actions of your Thank You page based on question logic.
Paperform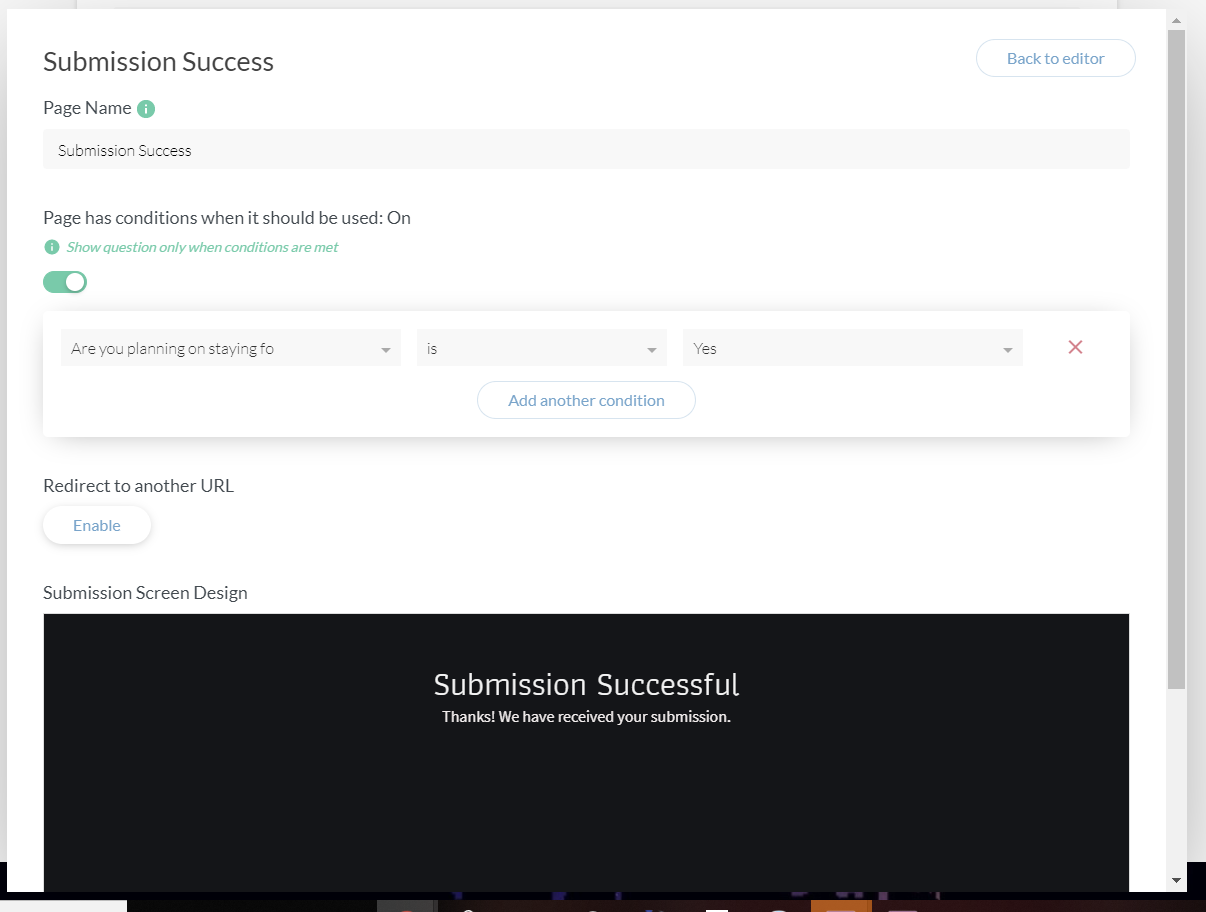 Unlike SurveyMonkey's Thank You pages, Paperform's success pages are fully customizable. Users can choose to create simple success pages or even complete more complex functions like redirecting users to other pages or provide custom success pages based on the user's responses.
You can easily add any images, video or media to Paperform success pages, as well as use answer piping to automatically display a certain question or response in the success page based on form responses. This is particularly useful for quizzes or surveys that require a calculation or score to display at the end.
Much like SurveyMonkey, Paperform's success pages automatically match the formatting style of the rest of your form by default.
Analytics
SurveyMonkey
Paperform
Form Analysis Features
Form views: Yes
Form submissions: Yes
Partial submissions: Yes
Completion Rate: Yes
Sales Figures: No
Export & Print Responses: Yes
Save & Resume Later: Yes
Form views:Yes
Form submissions: Yes
Partial submissions: Yes
Completion Rate: Yes
Sales Figures: Yes
Export & Print Responses: Yes
Save & Resume Later: Yes
Analytics Integrations
100 Integrations including Google Analytics and DataHero.
27 Integrations including Google Analytics, Mixpanel, Kissmetrics and Facebook Analytics.
Made up your mind?
Try Paperform Free Now