Jotform Alternatives: Jotform vs Wufoo vs Paperform
While it may seem that most form builders have a similar purpose to fulfil, Jotform and its top alternatives Wufoo and Paperform all provide a very distinct experience. The different features offered by each tool largely determine whether it's the right form builder for you.
If you're looking to compare how Jotform stacks up against popular competitors, you've reached the right place. Here we've broken down and compared everything from important features, user experience, pricing, customization, payments and more - so you won't have to.
We know there's nothing worse than signing up for a new tool and realising that the user experience is a deal breaker. To save you the hassle, we've also created some helpful videos to show you how popular functions are configured with each of them. Use our navigation menu below to get a deeper look into the features that matter to you.
Jotform vs Wufoo vs Paperform: Quick Feature Comparison
Jotform
Wufoo
Paperform
Best For
Creating fast and simple forms for mobile.
Creating surveys with advanced form analytics.
Creating fast and visually beautiful forms to represent your brand.
GetApp Rating
4.6
4.4
4.9
GetApp Customer Support Rating
4.4
4.3
4.9
Export Results To CSV
Yes
Yes
Yes
Jotform vs Wufoo vs Paperform: A Detailed Breakdown
x
Ease of use
Jotform
Jotform has an easy drag-and-drop interface, so it's a good option if you'd prefer to drag your questions into your form, as opposed to writing them in a free-form editor.
The platform also makes it simple for the user to edit question features, form colours, themes and backgrounds. Forms features are edited using left and right-hand side menus, while the question fields can be edited using the 'Settings' icon that pops up next to them when clicked.
Wufoo
Wufoo has a fairly intuitive interface that's easy to get used to. The form editor combines drag and drop and text elements to provide a customizable, though sometimes confusing, experience.
For example, the field-adding feature can be a little clunky as newly added fields automatically get pushed to the bottom of the form, requiring you to scroll down to find them. This could become a little frustrating with longer forms that need constant restructuring with every added field.
Paperform
Paperform is very easy to use - even for beginners. This is largely because the entire form builder is structured like a Word document. You can click anywhere, type anywhere, easily add logos, images, products, questions and different types of fields.
This also means that forms don't have to be edited within the confines of left or right-hand side menus. Each form feature can be edited with detail as the editing screens pop out for each selected feature.
While Paperform is mostly not a drag and drop form builder, questions can still be rearranged within the form using an easy drag and drop motion.
Customization
Jotform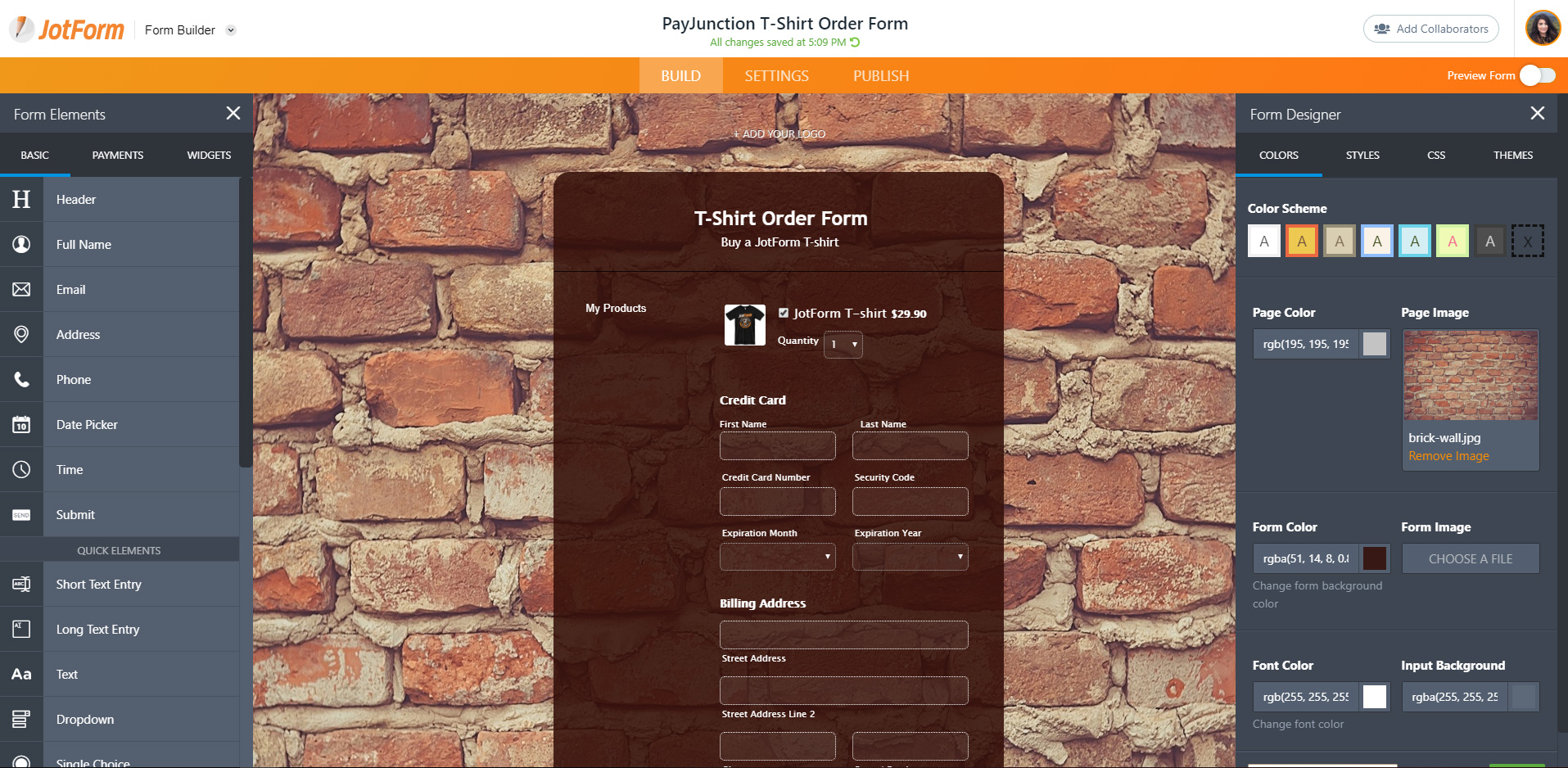 Jotform forms can easily be customized using the 'Themes' menu that appears on the right-hand side of the form editor. Here you can choose pre-designed colour themes or select individual colours for texts and backgrounds.
The form builder also allows you to add elements like images, logos and videos. You can also change the fonts on your form and adjust font sizes and colours. Just keep in mind that these features are accessed through a separate menu within the 'Themes' sidebar that opens up on a separate page, potentially making it a slightly disjointed experience for some.
It's also worth noting that the coloured box that appears behind the form is not removable, so the only way to get rid of it is by making it the exact same colour as your form background. This, however, makes it impossible to remove if you have an image as a background.
Wufoo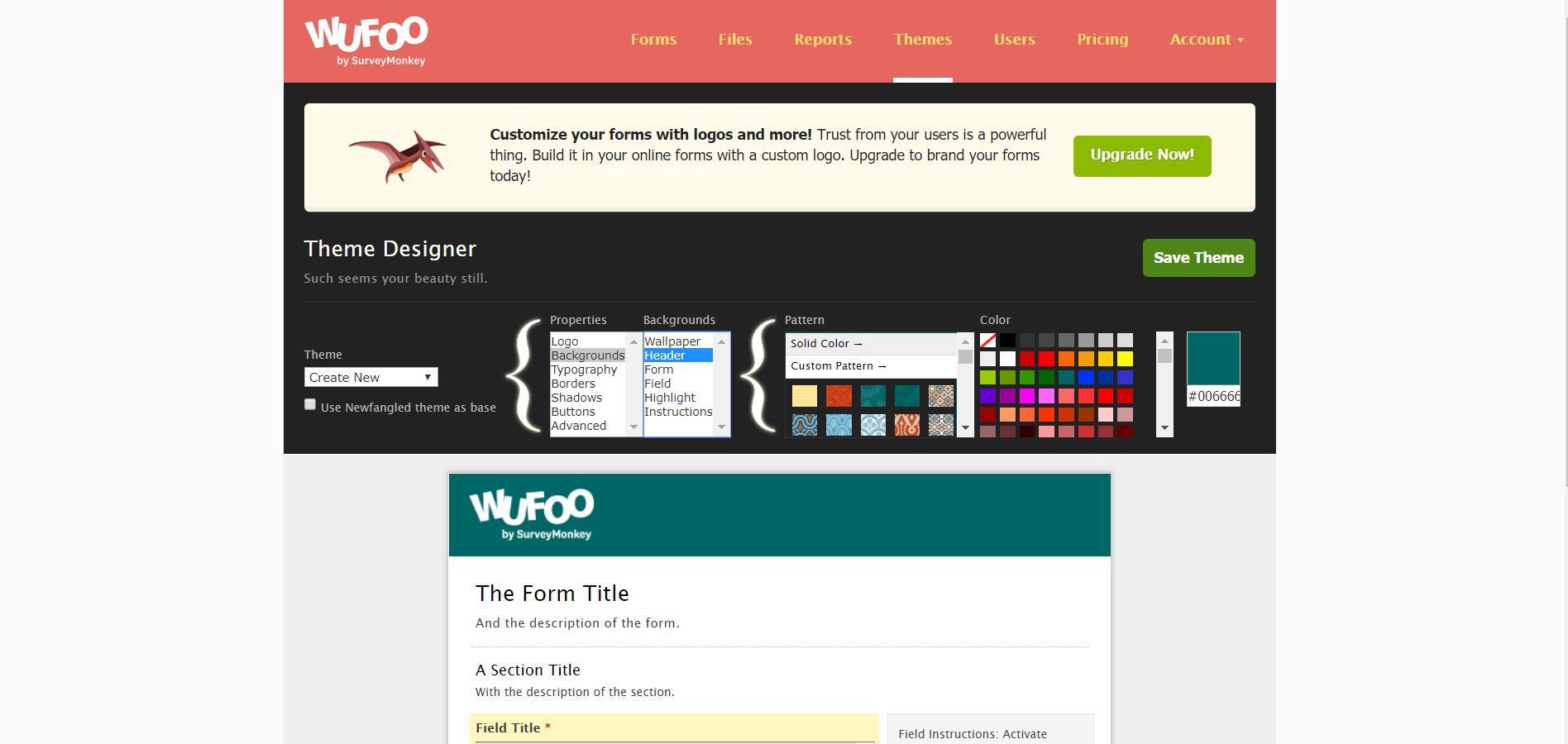 Wufoo also offers a decent level of customization. Users can customize colours, typography, buttons and logos. However, the process of customization works a little differently for Wufoo.
Instead of applying custom themes and designs to a particular form, the form builder asks users to design themes in a separate 'Theme Designer', that can then be applied to any form. This is a handy feature if you have lots of identical forms to create.
It's worth noting that the header with the 'Wufoo' logo on top can only be removed or replaced with your own logo if you upgrade to a paid plan.
Also, keep in mind that adding images and videos to your forms is a little trickier with Wufoo, as there's no bespoke form feature to do this. As a workaround, you have to add HTML code for every image or video you want to insert into your form.
Paperform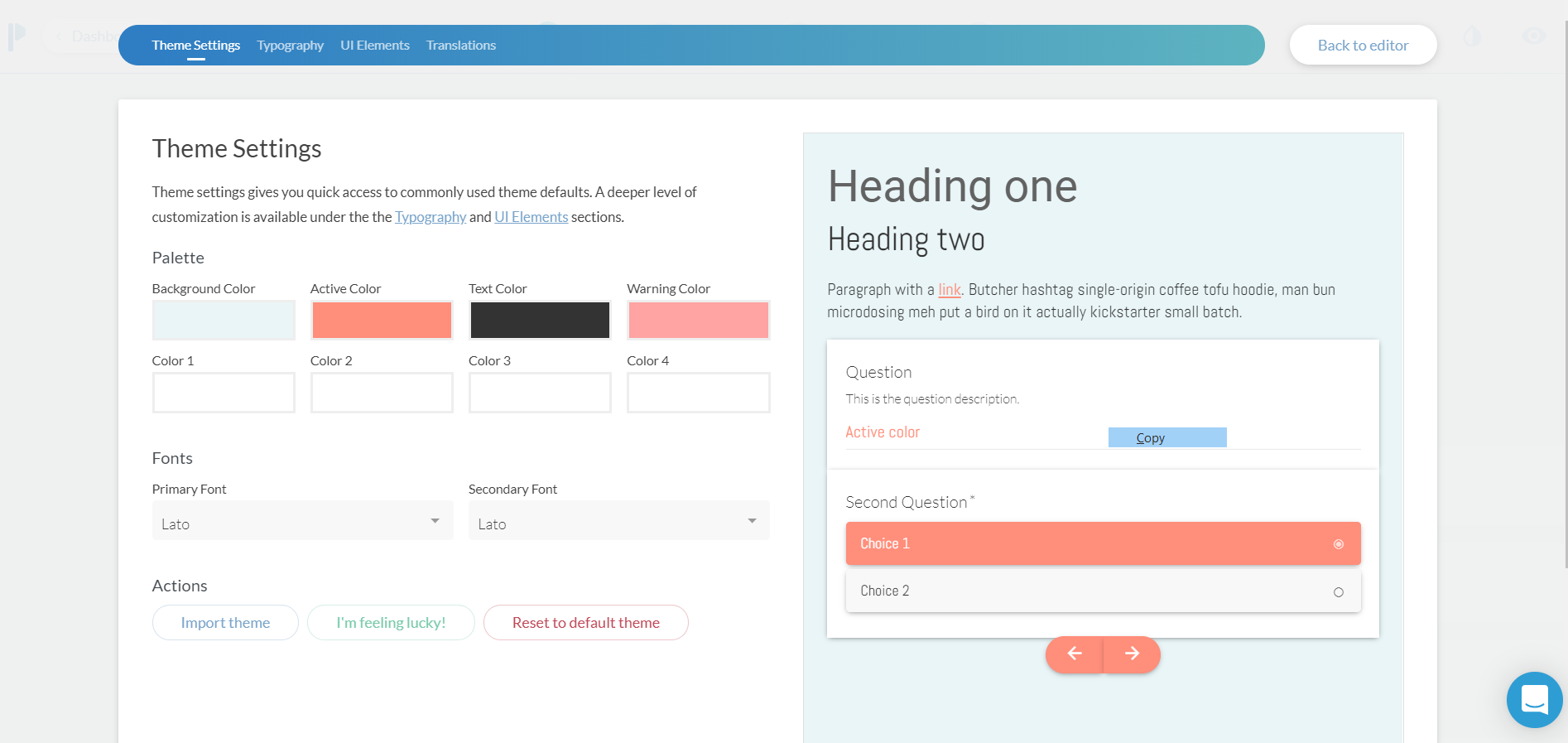 Paperform has a highly customizable form solution. The 'Themes' menu allows users to change colours, typography, logos, buttons, UI elements and more. Form backgrounds can be images or solid colour, and the coloured box behind the form can easily be removed or added as you wish.
Users can also easily add images and videos anywhere within the form. The platform also allows you to add Custom CSS in case you're looking for some extra customization.
While themes and form features are edited on a form-by-form basis, Paperform also offers a similar feature to Wufoo by allowing you to import themes. This makes it a lot faster for you to create multiple forms with an identical design.
A standout feature of the Paperform theme editor is the ability to preview how your selections will look on your actual form. This saves you the hassle of having to go back and check how a certain font, colour or button might look after each change.
Learning support
Jotform
Jotform has a support forum where users can browse through questions asked by other users or ask their own questions. The questions are publicly answered by Jotform's support team.
Live Chat: No
Youtube Tutorials: Yes
Wufoo
Wufoo has a help centre where users can access answers to common questions and queries. For individual support or questions, you have to email their team. According to their website, you can expect a response within 2 business days.
Live Chat: No
Youtube Tutorials: Yes
Paperform
Paperform also has a help centre where users can get answers to common questions. Unlike Jotform and Wufoo, Paperform offers live chat support, which means your individual queries can receive a response within hours.
Live Chat: Yes
Youtube Tutorials: Yes
Template Library
Jotform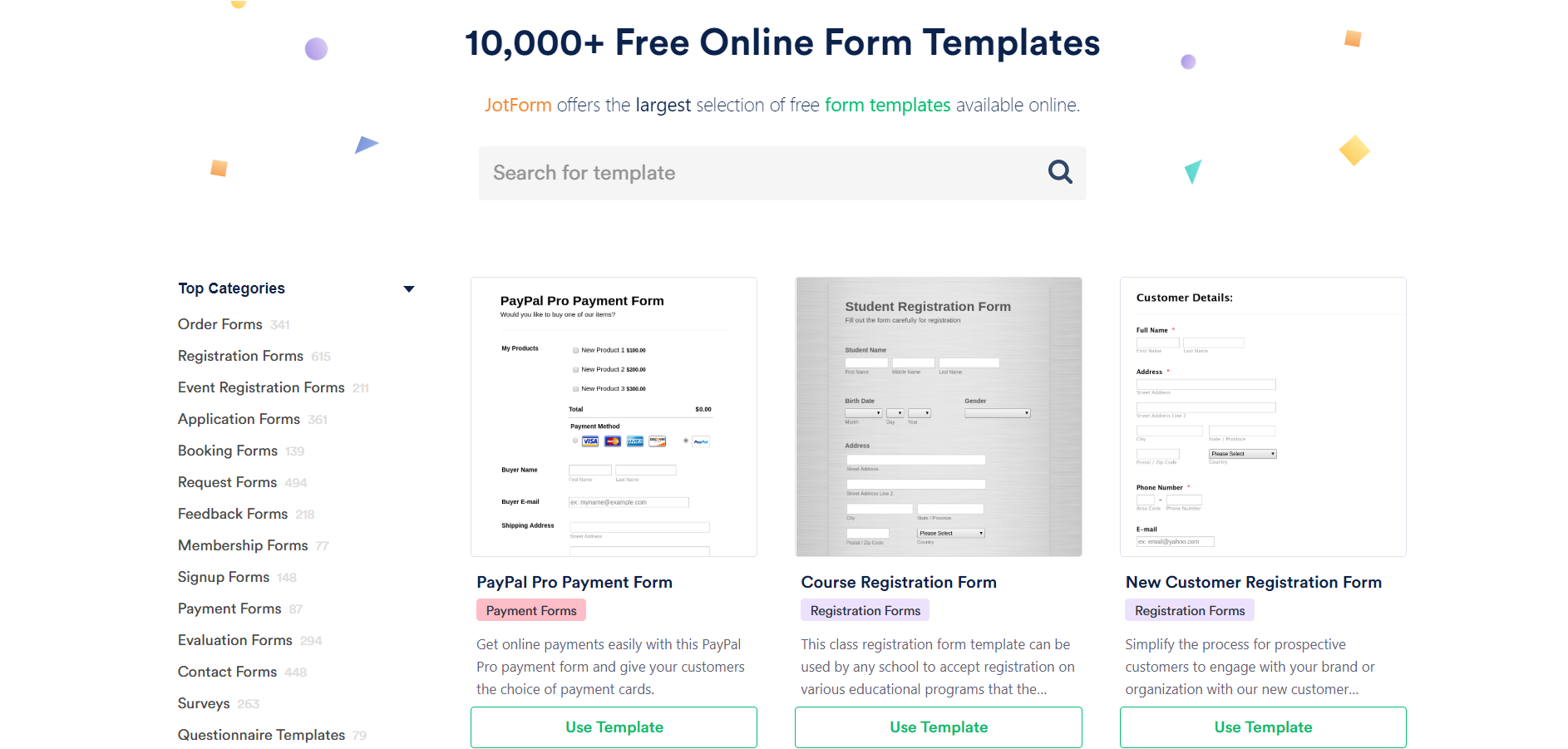 Jotform offers the widest range of templates, with more than 10,000 templates available to use. While there is not much of a range in the designs or themes of the templates, they're definitely useful if you're looking to get ideas for questions for a particular type of form.
Wufoo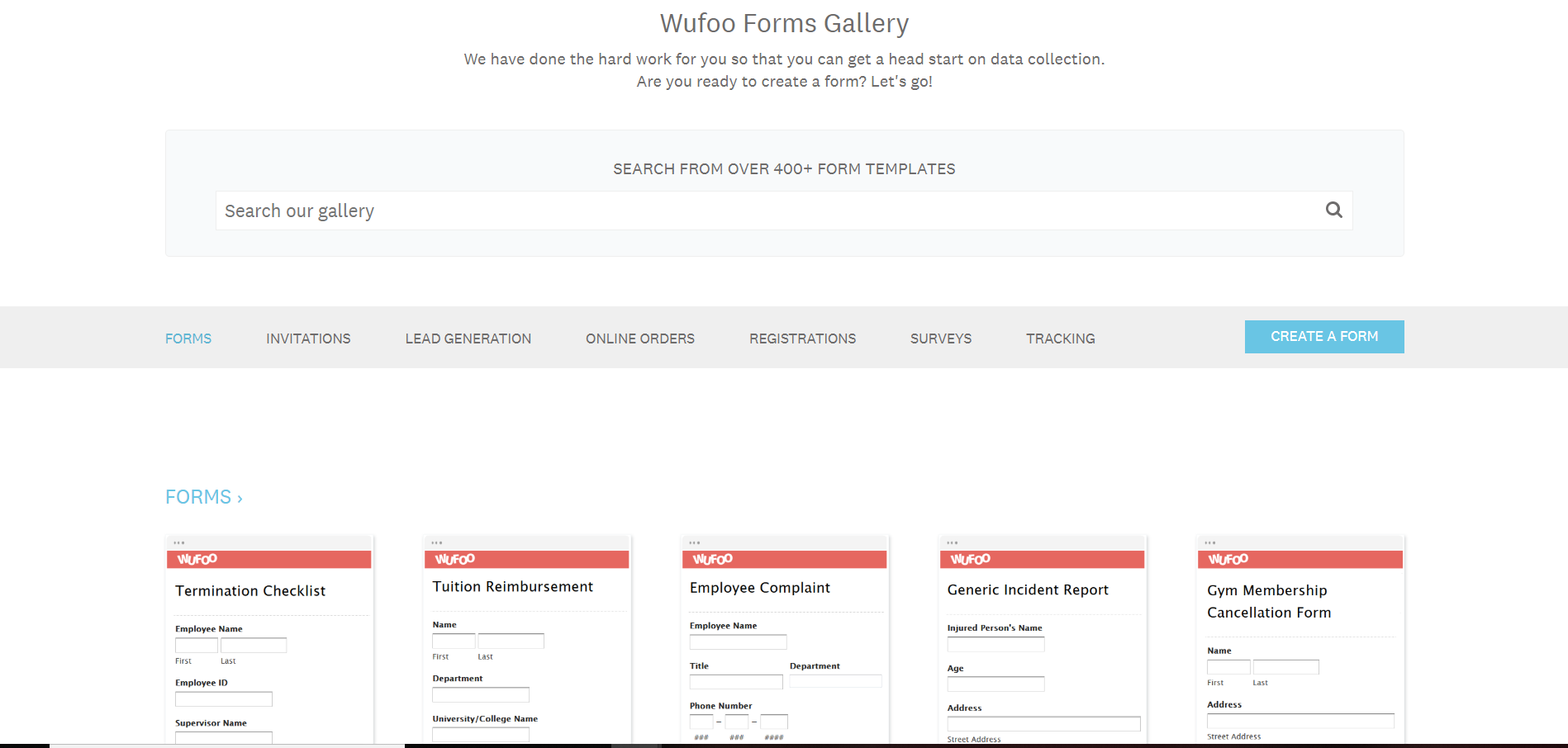 Wufoo offers 400+ templates to choose from and customize. While there's a good range of form types, it's interesting to note that all of Wufoo's templates look exactly the same. Therefore, they might not be ideal if you're looking to replicate any designs or get theme inspiration for your forms.
Paperform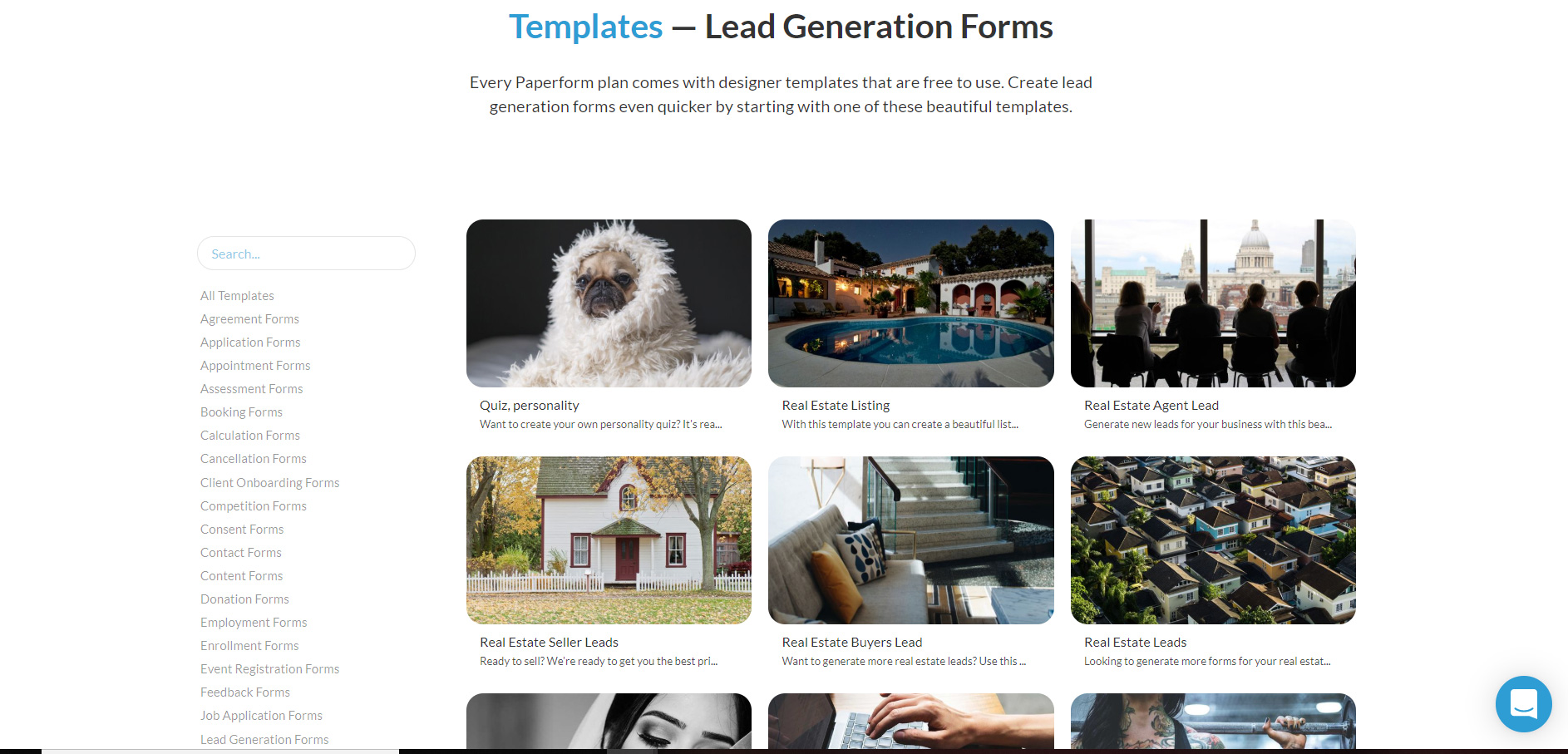 Paperform offers the most limited selection of templates of the lot, with 120+ customizable templates to choose from. The templates cover most types of forms and unlike Jotform and Wufoo they all have unique designs and themes, making it easier to create a beautiful form fast.
Payment Features
Jotform
Wufoo
Paperform
Payment Integrations
25+ payment integrations, including: PayPal, Stripe, Authorize.Net, eCheck.Net, Braintree, Square, Chargify.
Square, Authorize.Net, PayPal, Stripe, USAePay, Braintree, Freshbooks & Chargify
Stripe, PayPal, Square, Braintree.
Payment & eCommerce features
Automated responses: Yes
Receipt generation: Yes
Tax addition: Yes Subscriptions:Yes
Invoices: Yes
Quotes: Yes
Coupons: Yes
Automated responses: Yes
Receipt generation: Yes
Tax addition: No
Subcriptions:Yes
Invoices: Yes
Quotes: Yes
Coupons: Yes
Automated responses: Yes
Receipt generation: Yes
Tax addition: Yes
Subcriptions:Yes
Invoices: Yes
Quotes: Yes
Coupons: Yes
Advanced Form Features
Pagination
Jotform
Pagination with Jotform is very straightforward, You can click on the 'Add New Page Here' button to add a new page or step to your form. The only minor gripe here is that the 'Submit' button needs to manually be removed from your first page and added to the second. It's also impossible to change the order of the 'Back' and 'Submit' buttons on your last page.
Wufoo
Wufoo also has a similar 'Page Break' feature that can be dragged and dropped anywhere within your form. Each page of your form needs to have a title.
Paperform
Dividing your form into pages and sections is incredibly easy with Paperform. You can simply click wherever you want to create a new page and click on the 'Add break' icon that pops up.
A standout feature here is the ability to add a cover page if needed. As seen in the video above, the image and brand name can be used as a cover page for your form to give it a more branded feel. There is also no manual addition or removal of buttons required.
Question Logic
Jotform
Jotform has a straightforward question logic menu that allows you to set up complex conditions for your forms to hide or display questions as needed.
Wufoo
Wufoo redirects users to a Rule Builder that works almost identically to the Jotform conditions menu. Overall, it's very straightforward to set up conditions for your form fields.
Paperform
Paperform has a slightly different interface for question logic. Instead of redirecting the user to a separate menu, Paperform allows you to create conditions through individual questions, making the process incredibly easy and visual. You can also set up multiple conditions for any question, as seen above.
Success pages & redirects
Jotform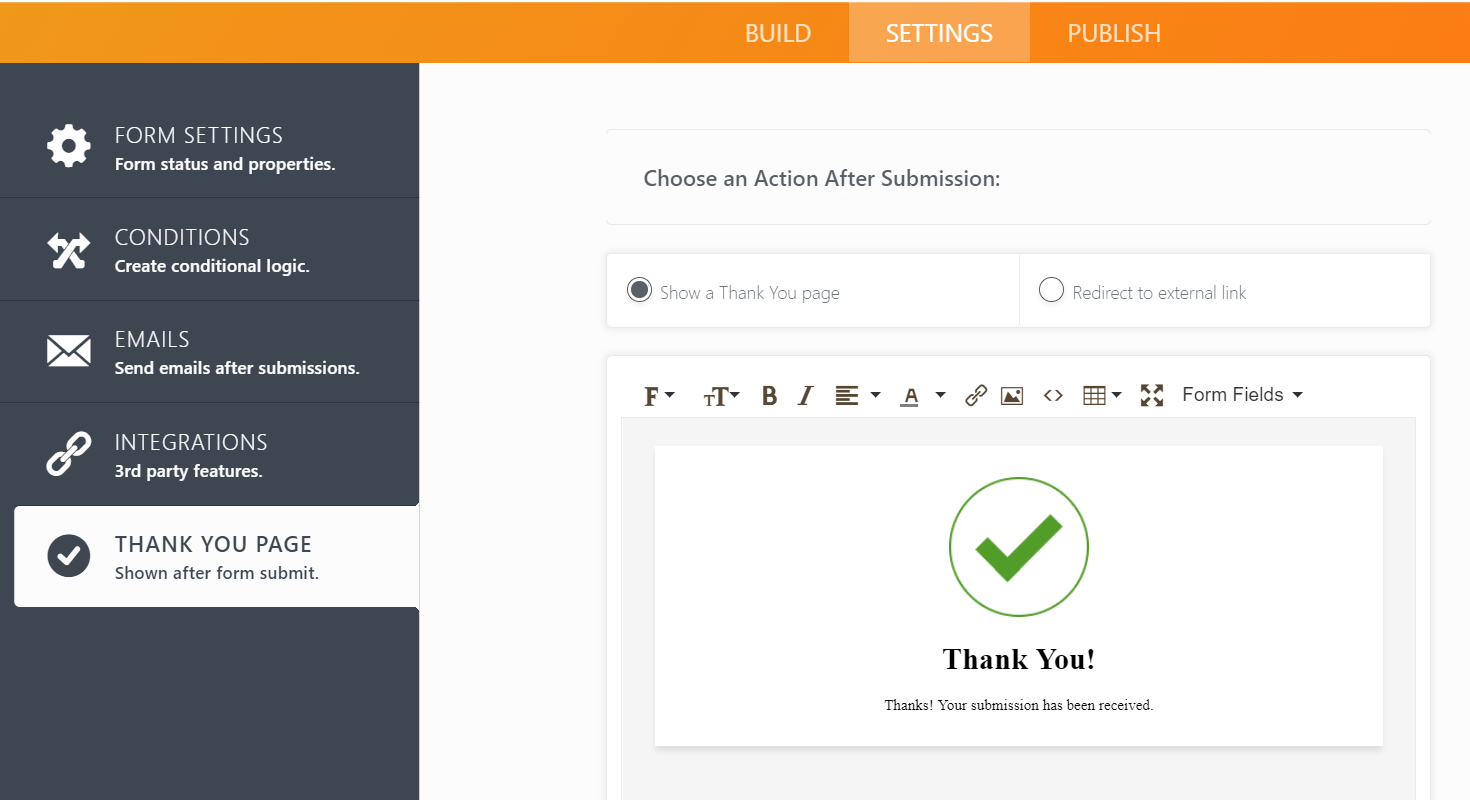 Jotform's default success page is basic but very customizable. Users can edit fonts and colours and add images to their success pages. It is worth mentioning that the themes and formatting selected for your form is not automatically applied to success pages, so you will have to format each success page manually.
Success pages and redirects can be customized based on how a respondent answers a particular question. This feature is accessed using the 'Conditions' menu.
Wufoo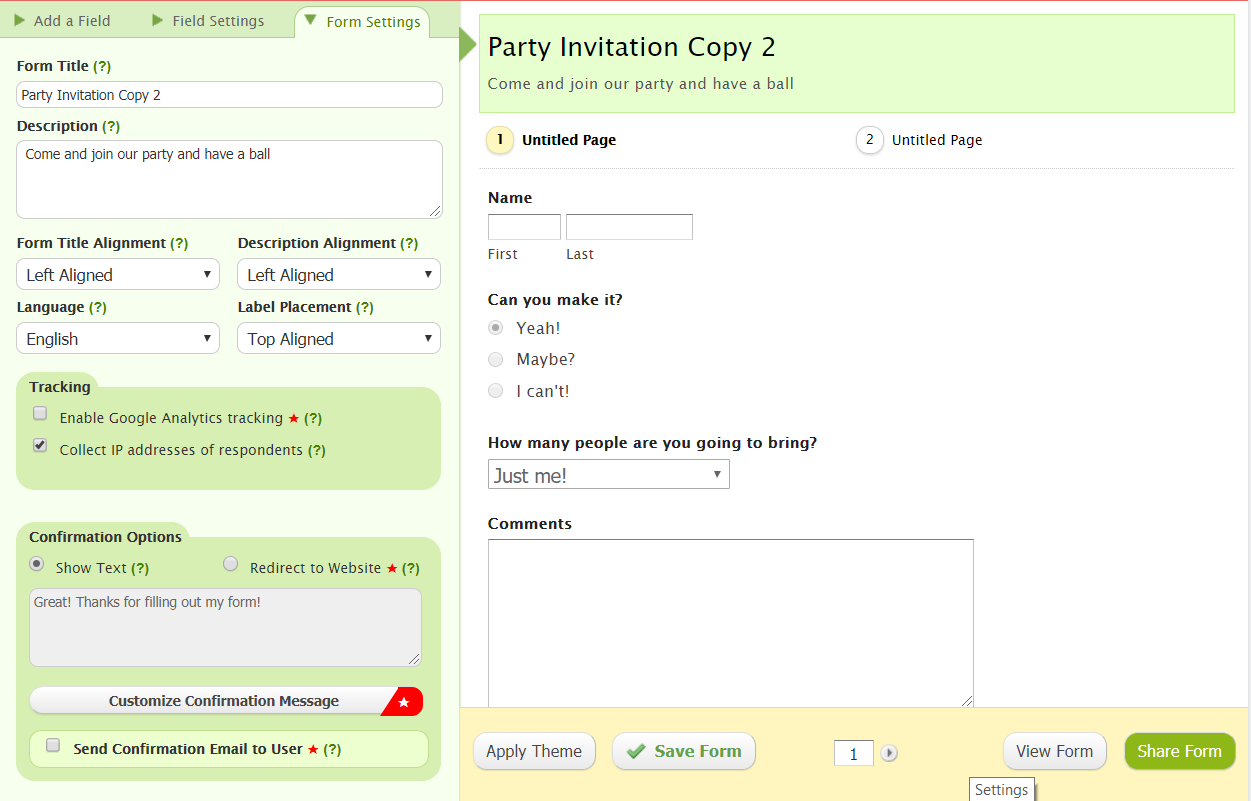 Wufoo's success pages and redirects work similarly to Jotform. Users can edit the messaging of their 'Confirmation Page' with the left-hand side 'Confirmation Options' menu or redirect respondents to a link instead.
However, unlike both Jotform and Paperform, the visual elements of Wufoo's success pages cannot be formatted easily. The only way you can customize the formatting here is by manually adding HTML yourself.
Wufoo's success pages can also be customized based on responses through the aforementioned 'Rule Builder'.
Paperform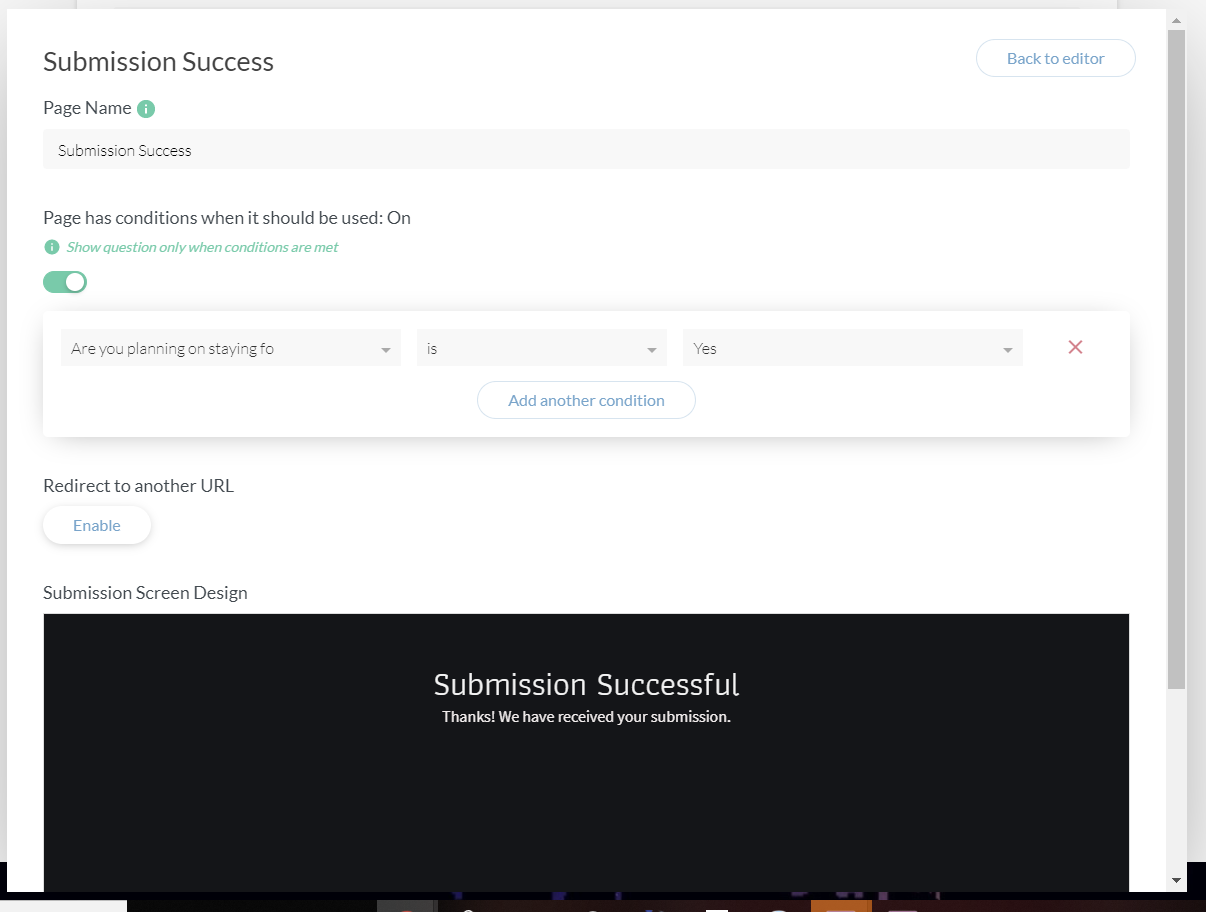 Paperform's success pages are highly customizable. Using the 'Success Pages & Redirects' menu in the form editor, users can set up simple success pages, edit text or redirect the user to a page of their choice.
Paperform also allows users to easily set up conditional success pages and redirects based on how the respondent has answered particular questions, making the pages even more dynamic.
Success pages match the formatting style of the rest of your form by default, so no additional editing work is needed on your end.
Analytics
Jotform
Wufoo
Paperform
Form Analysis Features
Form views: Yes
Form submissions: Yes
Partial submissions: No
Completion Rate: Yes
Sales Figures: Yes
Export & Print Responses: Yes
Save & Resume Later: Yes
Form views: Yes
Form submissions: Yes
Partial submissions: No
Completion Rate: Yes
Sales Figures: Yes
Export & Print Responses: Yes
Save & Resume Later: No
Form views:Yes
Form submissions: Yes
Partial submissions: Yes
Completion Rate: Yes
Sales Figures: Yes
Export & Print Responses: Yes
Save & Resume Later: Yes
Made up your mind?
Try Paperform Free Now