What is the best Wufoo Alternative?
Wufoo is a pioneer when it comes to online forms. Built more than a decade ago, it was one of the first software tools allowing people to create web forms on the web without any code or technical knowledge.
Over the last ten years the web (and the world) has changed significantly. Yet since they were acquired by SurveyMonkey back in 2011, Wufoo's product hasn't changed all that much. Yes, it's still relatively straightforward to use, but both its interface and the forms it outputs appear to be more than a little outdated.
If you're looking for a modern and more powerful alternative to Wufoo, look no further than Paperform. In this comprehensive guide we review the functionality, user experience, learning materials, and customer reviews of both Wufoo and Paperform to help you choose the best form builder for your needs.
Looking for a specific piece of information? Use the navigation menu on the right to jump to the topics that matter most to you.
Wufoo vs Paperform: Quick Feature Comparison
Wufoo
Paperform
Best For
Creating basic forms and surveys.
Creating advanced forms, product and payment pages that represent your brand.
GetApp Rating
4.5
4.9
GetApp Customer Support Rating
4.3
4.9
Guided Mode Experience
No
Yes
Wufoo vs Paperform: A Detailed Breakdown
Ease of use
Wufoo
Wufoo's editor is a combination of standard drag and drop builder and text features. It's a visual platform that requires little technical knowledge. Overall most users find it fairly intuitive and simple to use, though some complain that it can feel confusing at times.
In terms of Wufoo's interface, things are a bit old-fashioned and it's not optimised for modern devices (like smartphones and HD monitors) For example, the icons and menus are far too small on higher-resolution screens, to the point that they're barely readable.
Many users find the field-adding feature a bit clunky too. Newly added fields get automatically pushed to the bottom of the page, which means you have to scroll down to find them. This quickly becomes frustrating, particularly with longer forms.
Paperform
Paperform is very intuitive and simple to use, for both beginners and experienced users. Thanks to our free-text interface (a golden standard for modern web apps), creating forms and pages feels just like writing an online document.
In Paperform you don't have to learn how to use the side-menus and memorise where each feature is located. With our handy contextual menus all you need to do is click on the "Configure" button next to any field to configure all the details individually.
Need to add content? You can add questions, visuals and page breaks anywhere on the page— and in any order. You can even speed up the process with Paperform's powerful slash commands. Simply type "/ anywhere on the page and select the block that you'd like to insert. To make things as easy as possible, we even have "Quick Questions" with pre-configured details, among them the "Terms & Conditions" and "Name" fields.
Customization
Wufoo
At a glance Wufoo's customisation seems okay. Users can choose from a variety of question fields (19 in total), change colours, add logos and adjust the typography. However in practise the customisation features are quite unintuitive.
To customise the themes and colours of forms you first need to design them in a separate 'Theme Designer' plugin. This is helpful if you want to apply the same styling to multiple forms, but slows the creation process down significantly if you just want to customise a single form.
Unfortunately, there's also no simple way to add images and videos to forms. The only solution, which is less than ideal, is to add custom HTML code for every visual you want to insert. This is a tedious and time-consuming process.
There are a few other things to note too: Wufoo's logo can only be removed or replaced if you are on the paid plan, and all Wufoo forms are static by default. There's no way of switching to a "one question at a time" experience.
Paperform
With Paperform you can customise your forms and landing pages down to the tiny details. Just head over to the 'Theme' menu and tweak away to your heart's content—change colours, select new fonts and even switch up the look of UI elements like the navigation bar. You can even translate your form's interface into multiple languages.
There's no need for any messy HTML to add photos and videos to your forms either. Simply use a slash command and select "Image Upload" or "Video" fields from the list. Voilà!
And it doesn't stop there. Paperform integrates with Unsplash and GIPHY, allowing you to search copyright-free images and GIFs from inside the app and insert them into your forms without leaving the page.
Along the way you might wonder what your form will look like. Paperform allows you to preview how all those new colours, fonts or UI elements will look at any time. No longer do you have to waste time switching between tabs to see how things change with every little modification.
Prefer to get your hands dirty with custom HTML & CSS? This is available for our tech savvy Paperform users on the Agency plan.
Choose from twenty question fields—including calculations, appointments and product fields that allow you to sell items straight from your form. Once you're done, you can choose whether to display all fields on the same page or activate our Guided Mode for an engaging one at a time experience. Guided forms are especially great for immersive surveys and quizzes
Learning support
Wufoo
Wufoo maintains a help center where anyone can access answers to most common questions. For individual support or questions, you have to email Wufoo's team.
Live Chat: No
Youtube Tutorials: Yes
Paperform
Paperform has both video tutorials available on YouTube and a help center with detailed guides. We also provide live chat support, which means that every individual query receives a reply—often within minutes.
Live Chat: Yes
Youtube Tutorials: Yes
Template Library
Wufoo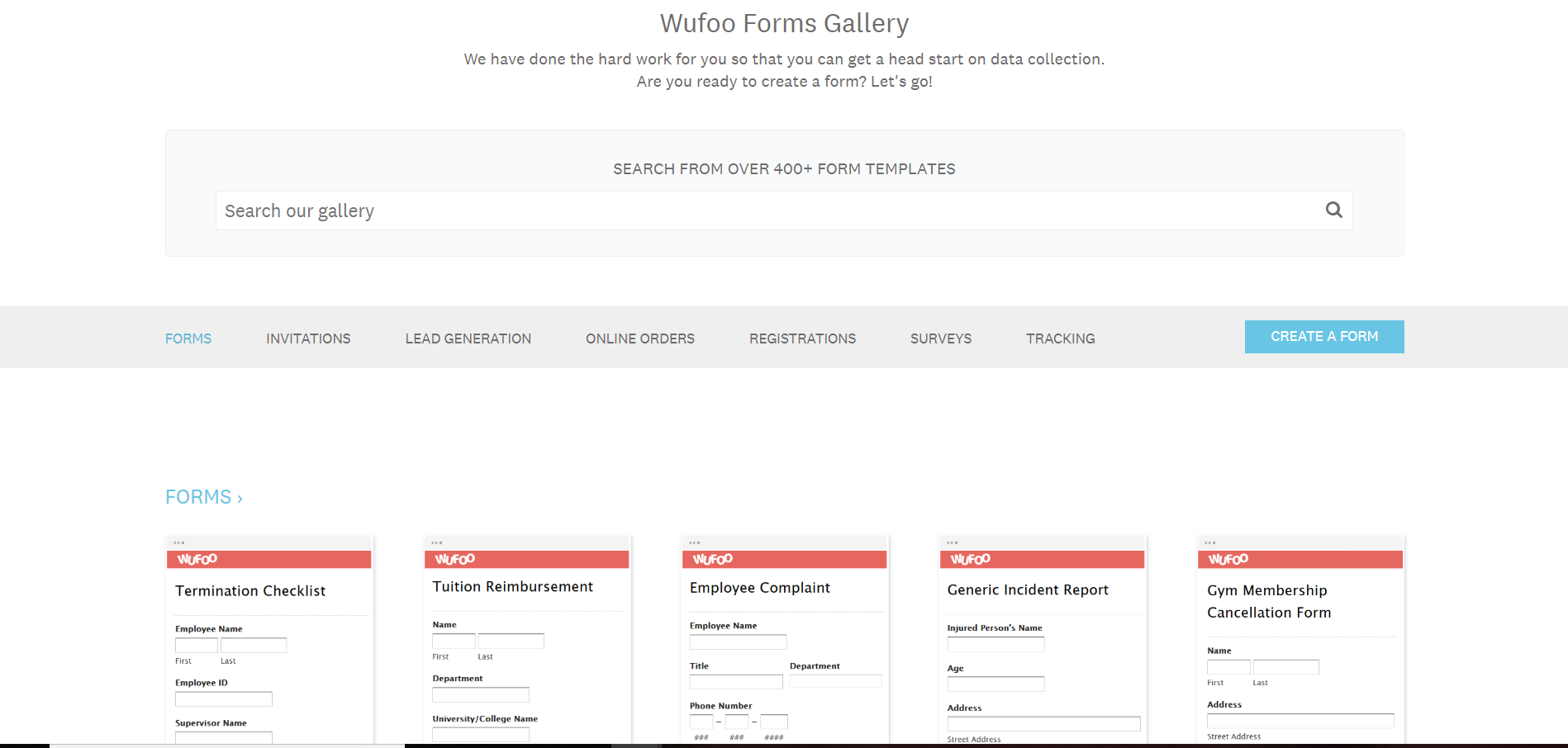 Wufoo provides a gallery of 400+ templates to choose from and customise. They're a bit of a disappointment because they all look exactly the same in terms of design and content. They don't actually help you in any tangible way to get a jump-start creating your online forms.
Paperform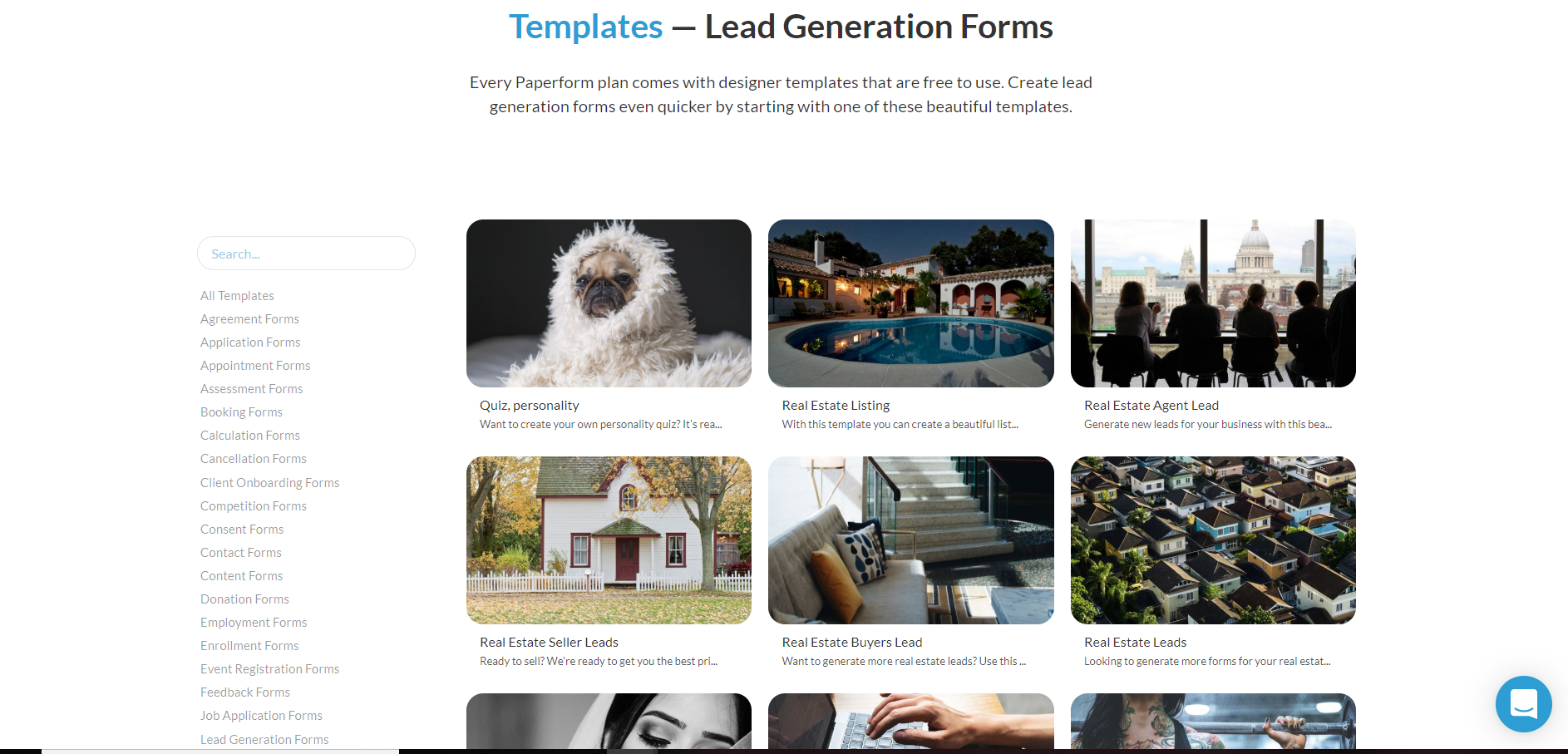 Paperform offers a library of 500+ form templates. Each expert-designed template has a unique design and colour palette and follows each industry's best practices. You can import any of those templates for free and start customising them in just one click.
Our templates are pre-filled with relevant questions too, so you can get ideas of what questions to ask.
Payment Features
Wufoo
Paperform
Payment Integrations
Square, Authorize.Net, PayPal, Stripe, USAePay, Braintree, Freshbooks & Chargify
Direct integrations with Stripe, PayPal, Square, Braintree.
Payment & eCommerce features
Automated responses: Yes
Receipt generation: Yes
Tax addition: No
Subscriptions:Yes
Invoices: Yes
Quotes: Yes
Coupons: Yes
Automated responses: Yes
Receipt generation: Yes
Tax addition: Yes
Subscriptions:Yes
Invoices: Yes
Quotes: Yes
Coupons: Yes
Advanced Form Features
Pagination
Wufoo
Wufoo has a 'Page Break' feature that users can drag and drop anywhere within forms. Just keep in mind that every new page of the form needs to have its own unique title.
Paperform
With Paperform creating multi-page forms is a breeze. All you need to do is select wherever you want to create a new page and click on the 'Add break' icon that appears.
Question Logic
Wufoo
To add conditional logic to your forms in Wufoo you'd need to use a separate "Rule Builder" menu. It's fairly straightforward and supports different types of logical statements. You can create up to 50 field rules, 50 rules that apply to pages, and 50 rules that govern the whole form.
Paperform
Paperform offers full support for advanced question logic. No limitations. You can display or hide questions or entire pages based on predefined variables and AND/OR conditions. This empowers you to create dynamic forms that adapt based on the answers of your respondents.
Rather than redirect users to a separate menu, Paperform enables you to create conditions for individual questions or blocks using the "Configure" menu. This is located on the contextual pop up menu adjacent to each question—and is never more than a click away.
Success Pages & Redirects
Wufoo
Wufoo supports simple success pages and redirects. Users can edit their 'Confirmation Page' content with the 'Confirmation Options' sidebar, or choose to redirect respondents to an external link instead.
There's just one major downside: once again Wufoo's customisation lets it down. The visual elements of success pages can't be formatted easily. The only way you can customise it is to manually add your own HTML code.
Wufoo's success pages can also be customised based on specific form submissions through the 'Rule Builder' mentioned earlier.
Paperform
Paperform's success pages are highly customisable and a breeze to set up. You can access all the relevant settings under the 'Success Pages & Redirects' menu. From there you can edit the page just as you would a doc—add links, edit text, insert images or embed your favourite GIFs.
Paperform users can also create multiple success pages and redirect respondents conditionally. This means that you can build forms that adjust based on particular answers and provide more personalised experiences for your visitors.
Analytics
Wufoo
Paperform
Form Analysis Features
Form views: Yes
Form submissions: Yes
Partial submissions: No
Completion Rate: Yes
Sales Figures: Yes
Export & Print Responses: Yes
Save & Resume Later: No
Form views:Yes
Form submissions: Yes
Partial submissions: Yes
Completion Rate: Yes
Sales Figures: Yes
Export & Print Responses: Yes
Save & Resume Later: Yes
Analytics Integrations
Google Analytics
Built-in Analytics, Google Analytics, Facebook Pixel or custom analytics scripts.
Made up your mind?
Try Paperform Free Now